Date Received: December 14, 2015




Rainbow Bridge: March 25, 2022
H

istory: Zeus (one of the Greek Gods) is one big, tall, handsome boy. He is all white (with some ticking) except for one brindle patch over his left eye and his speckled ears. Zeus' good genes made a great racer – between 155 and 172 races to his credit (depending on the website), all in Birmingham. His career spanned from October 11, 2013 through October 7, 2015. Two of his littermates have also run 155 or more races each. Zeus is another CTW Plaza Rio dog (in the Flying Penske and Oshkosh Racey line). (That makes him part-sibling to Glory, Dana (Zelda), Dancer, Lena, Easy (Hobbs) and Mercy (Remy). is dam, Great Lee, is a Brett Lee dog.
See Greyhound-Data.com for more information.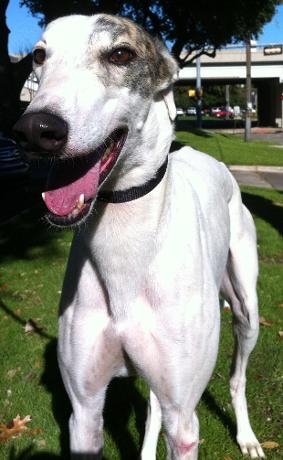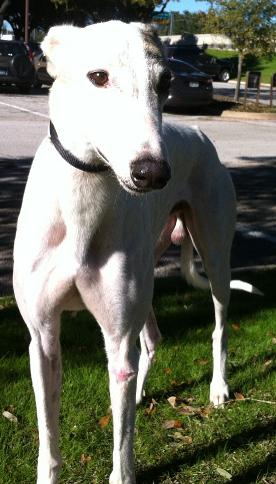 January 10, 2015 update: Zeus have happily found his forever home with his foster mom, Dana and tags alumni Sasha. Congrats to all!

December 14, 2015 update: Initial impression: laid back, good on a leash and VERY affectionate ("If you have the time, I'll stand here all afternoon and let you pet my head."). He even nudges your hand when you stop petting him (How dare you!!). He soaked up a lot of affection from the little girls at the vet's office. Of course, once he gets into a home, this may warrant some revision. He's ready to retire his silk in favor of snuggly dog blanket.