Date Received: June 4, 2015



H

istory: Lena's mom is CTW Pop a Wheely (that gal has had 45 offspring, one litter with TAGS' Silverstreak) from the Lonesome Cry line and her sire is CTW Plaza Rio from the Flying Penske line (also Dancer's sire). She is a littermate of TAGS' boy, CTW Easy Street (now Hobbs). Lena had a mediocre racing career of 30 races at Wheeling Downs and ending at Gulf Greyhound Park. Lena spent 2015 at the farm and is now ready for a more relaxed life of retirement.
See Greyhound-Data.com for more information.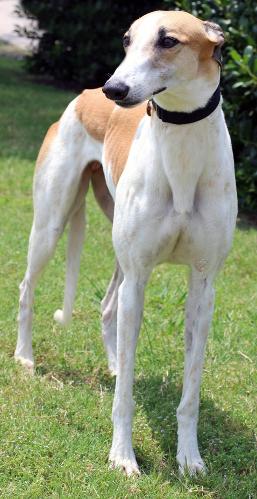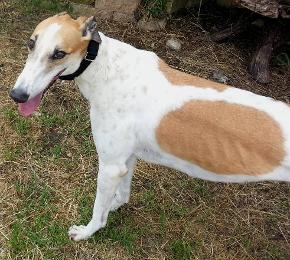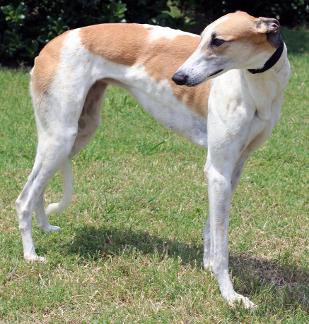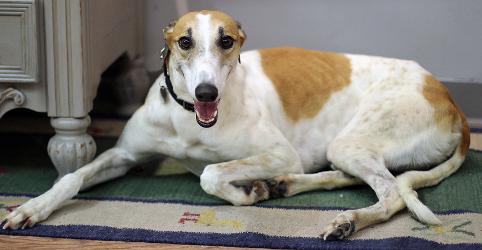 July 3
1
, 2015 update:
Lena found her forever home with Hobbs (TAGS Easy). Congrats to her and her new family.
June
11
, 2015 update:
Lena is quickly learning to like home life. She is a solitary eater so she does not want you to watch her eat or look at her while she's eating -- or she won't eat. Set the bowl down and walk away. Also keep a eye on her water consumption. At first she didn't like the location of the water bowl so we had to put out another one in a different location. She may have had eating and drinking adjustments but no adjustments to lounging on a dog bed – on her back with her feet in the air. Cats and small children are not issues either. There have been no problems with potty training. Lena goes outside several times a day. We do not crate (someone is almost always home). Another little quirk of hers is that she digs in her sleep (instead of running). We haven't figured that one out yet. We have our two greys and another foster (Justina), and Lena had not had a single issue getting along with them. We only have 3 steps that lead in the house and two off the deck in the back and they don't seem to bother her but that is the only experience she's had with stairs. She's still adjusting to home life so her personality will continue to evolve.
June
4
, 2015 update:
Lena
came to TAGS for a life of retirement and to find her loving lifetime home.