Saturday, December 14, 2014 - Richardson Mercantile: New store, new venue, Richardson Mercantile, was host to the TAGS Greyhounds on Saturday. Everyone laughed at the dogs sporting their antlers. They couldn't decide if they were "Greydeer" or "Reinhounds". One young girl wanted to draw Craig for a school project. Look for TAGS at Richardson Mercantile in the future.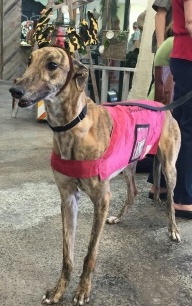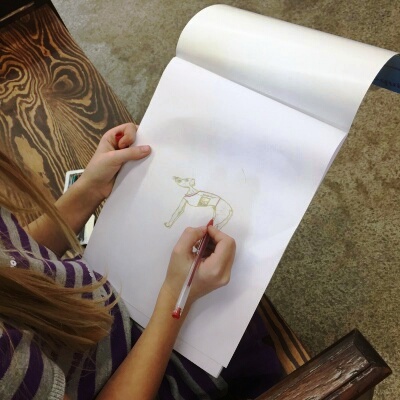 Saturday, October 25, 2014 - Whole Foods, Fairview, Texas. TAGS celebrated Halloween early at the Meet and Greet. TAGS' available boy, Doug, came as a bull with a cowboy rider. TAGS' alums Chief, the pirate; Stella (with long blond wig);M and Izzy (with witch's hat), all had fun. Friends, Sheldon and Penny and their mom came to visit. Sheldon was the winner of the costume contest, with the big black cat on his back. The shoppers certainly didn't expect to see Greyhounds dressed in Halloween costumes when they came to Whole Foods to shop.
Saturday, October 18, 2014 - TAGS' volunteers and Greyhound owners took a road trip to Ben Wheeler, Texas. There were plenty of benches for resting, stores for shopping, galleries for browsing, shops and restaurants for eating, and people for petting Greyhounds. The Greyhounds enjoyed the petting and an occasional treat the best. Thanks to the merchants of Ben Wheeler, Texas, for welcoming TAGS and the Greyhounds to their East Texas town. Littermates, Trooper and Gatsby, were reunited; and Rosie may find a lifetime home with Gatsby and Pippi, TAGS alums.
Saturday and Sunday, September 13 and 14, 2014 - 2014 Fall Collin County Home and Garden Show – The weekend was a mild fall weekend to participate in TAGS' first fall event of the year. It was another success for TAGS and the Greyhounds – Doug, Lacy and Rosie were big hits – hopefully someone who saw them would also apply to adopt them. Thanks to all the volunteers who were so helpful. Everyone loves to talk about Greyhounds!!! See you at the Spring show.
Sunday, July 20, 2014 - TAGS' enjoying the cooler weather this July at Hall Office Park in Frisco. Great weather, fun walk, happy Greyhounds!
Monday, May 26, 2014 - TAGS' Memorial Day Walk at Hall Office Park in Frisco: This event proceeded as planned even though the weather did not cooperate. We had to shorten the walk because of rain, but the dogs and Greyhound owners still had a good time. The dogs always enjoy meeting other dogs and getting lots of treats. The people were treated to homemade ginger snaps (Yum! – Thanks Gail). We'll do it again before it gets too hot.
Sunday, May 4, 2014 - Coffee Paws Time at Starbucks: A hot Sunday afternoon found many TAGS Greyhound owners and friends at Starbucks on Preston at Frankford for a TAGS Coffee Paws event. Watch the website and Facebook for the next one. We hope to see you there.
Saturday, April 5, 2014 - Frisco Mercantile: TAGS always has a big crowd at Frisco Mercantile – all adoptable dogs were there (Ellie, Maverick, Splash and Repo), many greyhound friends and shoppers galore.
Saturday and Sunday, February 22 and 23, 2014 - Dallas 2014 Auto Show – TAGS was back at the annual DFW Auto Show at the Dallas Convention Center. TAGS' booth was across from the entrance to the main floor so all the dogs received lots of attention. All of the TAGS dogs and many adopted TAGS dogs came to visit with all the people. Thanks to all of the TAGS volunteers –two legged and four legged.
Saturday and Sunday, February 8 and 9, 2014 - Allen Home and Garden Show – TAGS' Greyhounds were a popular attraction again at the Collin County Home & Garden Show in Allen, Texas. All of the TAGS volunteers educated the public about the wonders of owning a greyhound (or 2 or 3). Potential fosters and adopters asked many questions and had the opportunity for some hands-on time with Greyhounds. All of TAGS' adoptable hounds (Tippi and Cruzer) were there and all did well (including the more timid ones, Maverick and Ellie). HGTV celebrity, Jeff Devlin, loved visiting with the dogs and had fun being photographed with them. We hope to see you at the Fall show.
Saturday, January 11, 2014 - Frisco Mercantile – What a way to start the new year!!! TAGS adoptable Greyhounds and their many friends gathered at Frisco Mercantile to start the 2014 TAGS adoption year. To get the ball rolling, this was Oakley's (now Bowie) adoption day. Maverick is still's getting used to meeting the public. Sugar acted like a pro greeting everyone and receiving lots of attention. The crowd kept growing as more people and Greyhounds arrived. Everyone enjoyed the afternoon – Greyhounds, old friends and new friends.

Texas Adopt a Greyhound Society, Inc. ~ P.O. Box 703782 ~ Dallas, TX 75370
214-368-TAGS(8247) or 855-TAG-TAGS (824-8247)
Greyhound Yin Yang copyright by Sue Horner (Greytwear).