Sharing Greyt Tales about Greyhounds

Send stories and photos of your Greyhound's adventures to TAGS and we will share them here!


Previous TAGS Tales Newsletters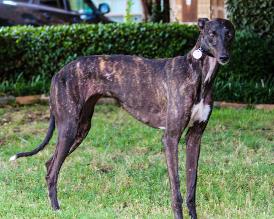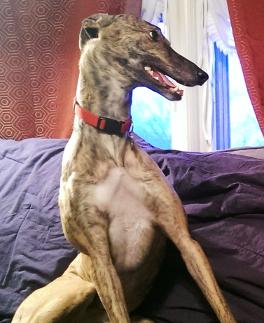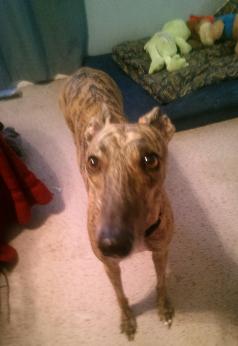 Dear TAGS,
I don't know how often you get emails about greyhound welfare and whatnot after they leave TAGS, but it has been a while since you have heard about Sadie at least. I thought that you might like a little update.
Sadie, James, and I live in Missouri now. We've got a house with a nice sized fenced-in backyard that Sadie likes to run around in and, much to my chagrin, dig up occasionally. She likes her squeaky toys, especially the ones that are soft too. We've managed to teach her to put them in her toy basket when she is done. Admittedly, they almost just as often end up on her bed, but, hey, no toys laying all over the floor! She regularly "talks" to us if we aren't paying her enough attention (note: there is no such thing as "enough" attention. Either Sadie has full attention or she is asleep). We find it very amusing. She is a real snuggle hound and likes to cuddle up on the couch in "her" spot in the evenings when James and I watch TV.
Really, we couldn't ask for a better grey or one with a bigger personality. It is hard to believe that she has only been part of our lives for a little less than two years.
Thank you and TAGS for getting us in touch with her and helping to make our little family complete.
All the best-
-Lauron, James, & Sadie
(adoption date Dec. 1, 2012)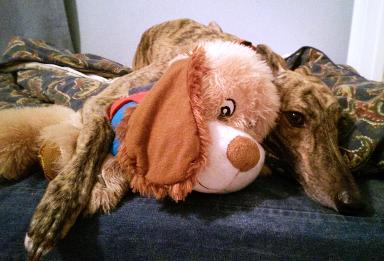 Hi TAGS,
I went to my first Meet and Greet in Penfield, NY (
www.greyhoundadopt.org
). The nice lady in the picture is Cindy Bower, she is President of
Greyhound Adoption of Greater Rochester, NY.
You can see me up front with two other girls in the background. One is a brindle like me. I'm going to another Meet and Greet this month. I'm not sure yet if I like it or not. Don't tell my Mom and Dad but I would rather stay home and rest on the couch. I do like the fuss everyone makes over me but I can get that at home without getting off the couch.
Love,
Ruby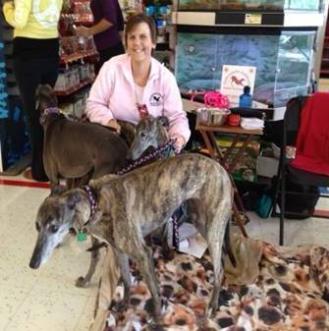 A Letter from Ruby to her former foster parents about her trip to her summer home.




This picture is just a teaser - read the letter and see more pictures.
(click on "Letter" above or the picture on the right)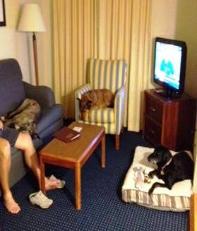 Today Maggie (formerly Maya) and her sister Cookie went to Transformation Salon in Austin. They both had a waterless bath using Paul Mitchell's new line of pet products. They had a great time! They met a lot of new people, and got a LOT of attention! This will be the first of many outings for these two. It was lots of fun! (Karin)

Greyhound Lure Coursing and Play Date at the Haggard's Farm - April 2012

See more pictures of the days events here!
Thank you to Richard McClure for taking these pictures and sharing them.

See information to request the high resolution pictures you would like from Richard on the link above.

TAGS Halloween Greys - 2011

The Guinn Man had a blast lure coursing - Feb. 2009.
Guinness Haggard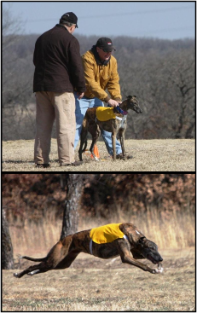 Texas Adopt a Greyhound Society, Inc. ~ P.O. Box 703782 ~ Dallas, TX 75370
214-368-TAGS(8247) or 855-TAG-TAGS (824-8247)