Saturday, November 23, 2013 - Lure Coursing Fun Run – The Basenji Club fun run at the Haggard Farm had fewer participants than expected because of the cold, rainy weather. A few TAGS volunteers helped and there were a number of humans and dogs that braved the cold. Three Greyhounds participated in the day and two (Comet and Teaney) chased the bunny (white plastic bag). There were also Borzoi, Rhodesian Ridgeback, Basenji, Whippet, Silken Windhound, and a few undetermined breeds in addition to the Greyhounds that were game for running. As usual, the food and company were worth the trip to Celina. If you would like more information about amateur straight racing and lure coursing, check out these websites.

Saturday, October 26, 2013 - All God's Creatures Day was a successful event for TAGS and especially for Gracie, who went to her new home. She'll miss her foster parents and greyhounds, Stella and Crash, but will enjoy her new adventure. You might think you are imagining that you see a horse in one of these pictures but it is for real - the Blessing of the Animals included a horse this year..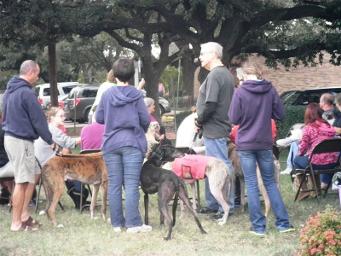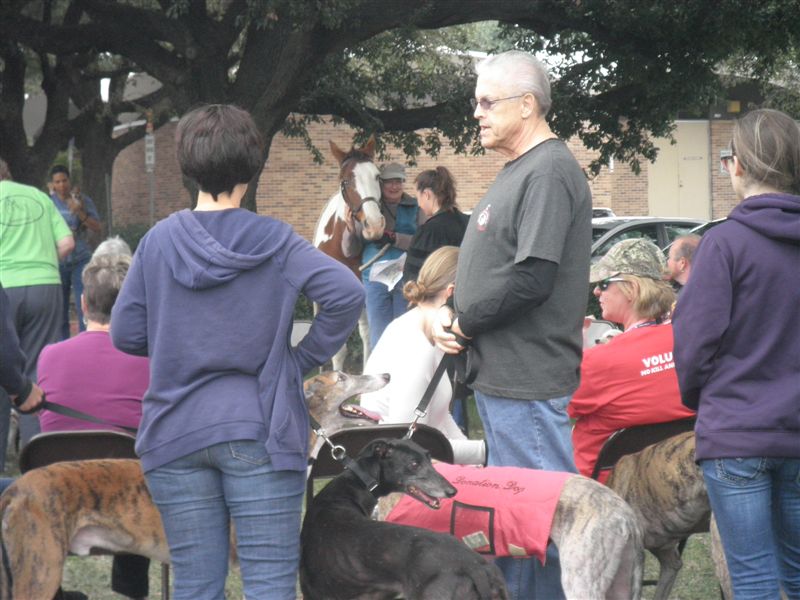 Saturday, October 19, 2013 - TAGS received a generous donation from Petco at the opening of the Lakewood Unleased by Petco store in Dallas on Saturday, October 19, 2013. This is a new concept store specializing in only dog and cat products which are more environmentally friendly. TAGS was honored to be a part of the opening celebration. Available TAGS dogs, Tippi and Anchor, and TAGS alums Strider, Cricket, Lovie and Trudy helped celebrate. They also tried on holiday finery but decided they are beautiful (or handsome) enough without it.
Saturday, September 21, 2013 - The TAGS Greyhounds were out in force today at Woofgang Bakery and Grooming for a Meet and Greet and book signing by Suzanne Burke. Available dogs Anchor, Shady, Gracie, Tippi and
Charger represented TAGS in addition to other Greyhound visitors. As you might expect, all were gathered around the large treat table (hoping one would jump out of a dish and onto the floor).
Saturday & Sunday, September 15 & 16, 2013 - Collin County Fall Home and Garden Show. This was a greyt weekend for TAGS. It participated in the first fall home and garden show at the Allen Convention Center. There were lots of new people to see and lots of dogs to pet. It was Dale's lucky weekend, too, as he was selected for adoption, pending the home visit. There was interest in all of the available dogs. Many previously adopted greyhounds also came to help spread the word. Tippi, TAGS' senior, is a pro at these events and took many opportunities to view the crowd from ground level. Thanks to all the volunteers who helped make this such a successful weekend..
Thursday, September 12, 2013 - The Wine Cellar at Starwood and TAGS Wine Tasting & Silent Auction. Greyt Wine! Greyt Friends! Greyt Auction Items! Greyt Greyhounds! That was the wine tasting event at the Wine Cellar at Starwood. TAGS gives a huge thanks to David Denham and his "store dog" Sam, the Great Dane, for hosting this event. We could not have put it together without the delicious food donated by Trader Joe's and the help of the TAGS volunteers.

As you can see it was a greyt success. We hope you will join us next time.
Saturday, May 27, 2013 - Memorial Day Walk. More than 20 dogs (Greyhounds, Salukis and an IG) enjoyed their walk at Hall Office Park on Memorial Day with their owners and friends (the humans can walk and talk at the same time). The breeze kept everyone cool and the dogs enjoyed their treats and water when it was over, even though they were tired (seems like one Greyhound, Major, decided to lay on the concrete parking lot – when you're tired you're tired). Maybe we can do it again before it gets too hot.
Sunday, May 19, 2013 - Coffee Paws Time for TAGS at Pearl Cup Coffee. TAGS made new Greyhound friends and found a new place in Richardson to enjoy a beverage and talk about Greyhounds. Even a few Salukis visited. Thanks to Pearl Cup for hosting TAGS and all the Greyhounds. TAGS hopes you will come to the next Coffee Paws event.
Saturday, April 20, 2013 - Downtown Frisco StrEATS: The weather could not have been better for Frisco StrEATS. Lots of food trucks, lots of music and lots of Greyhounds - even better. TAGS was the only dog adoption group to participate in the event and the Greyhounds were definitely a crowd pleaser. If you missed it, we hope to see you there next year.
Sunday, April 7, 2013 - Coffee Paws Time for TAGS at Starbucks. Everyone enjoyed seeing old friends and meeting new people. Thanks to Starbucks for welcoming TAGS and all the Greyhounds. Sara Cox won the super basket donated by Starbucks. TAGS hopes to make this a regular event.
Saturday, March 16, 2013 & Sunday, March 17, 2013 – Dallas Auto Show: Wow!! What a busy weekend for people and dogs. TAGS had a big showing at this year's DFW Auto Show. Thanks to everyone who volunteered and to all the dogs that soaked up all the petting.
Saturday, February 16, 2013 & Sunday, February 17, 2013 – Collin County Home and Garden Show: For the third year, TAGS' Greyhounds were the only dogs at the Collin County Home and Garden Show and were (as usual) the hit of the show. The weather cooperated and lots of people were there planning home improvements and spring planting. The Greyhounds always draw a big crowd. TAGS appreciates the efforts of all its volunteers, foster dogs and visiting Greyhounds. All were greyt ambassadors for Greyhounds and TAGS. Take a look at the photos from the show. We hope to see you there next year.
Saturday, January 26, 2013 – Half Price Books: This was a big day at the TAGS Meet and Greet at Half Price Books in Frisco. The TAGS Greyhounds received a lot of attention and had several canine visitors.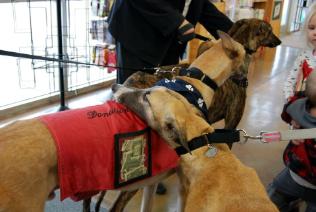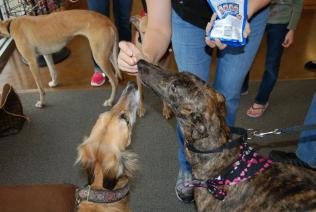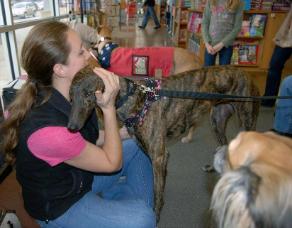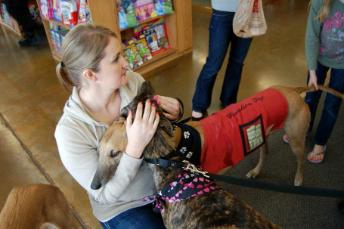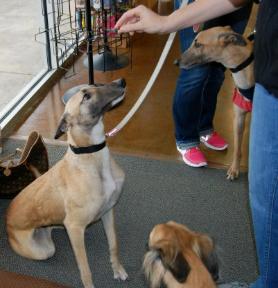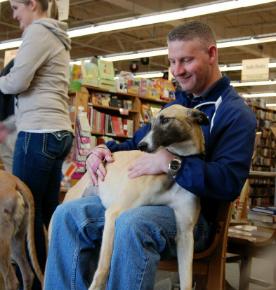 Saturday, January 5, 2013 – Paws Dog Barkery: TAGS started the new year at this new venue. The dogs enjoyed shopping for toys, homemade treats (and tasting some, of course) and all things that smelled good. Adopted TAGS dogs, Crash and Trudy visited together with another male brindle greyhound named Cricket (he was picking up his birthday cake). Rocky, Willow and Lovie greeted everyone who came into the store (hoping to find a new home).

Texas Adopt a Greyhound Society, Inc. ~ P.O. Box 703782 ~ Dallas, TX 75370
214-368-TAGS(8247) or 855-TAG-TAGS (824-8247)
Greyhound Yin Yang copyright by Sue Horner (Greytwear).