TAGS is a 501 (c)(3) non-profit organization incorporated within the State of Texas - I.R.S. # 27-0787208.

OUR MAIN GOAL IS TO FIND LOVING, RESPONSIBLE, FOREVER HOMES FOR GREYHOUNDS.

Mission
TAGS' mission is to facilitate, in a foster home setting, the adoption of Greyhounds, primarily those from the racing industry, into loving, responsible, lifetime homes.
Advisory Council
Jim Bennett, CFO First Lexington Corporation and Former Board President of Operation Kindness
Steve Stoler, Director of Media Relations, City of Plano
Sharon Wild, DVM - The Colony Animal Clinic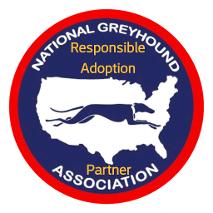 Board of Directors
Suzanne Griggs

Barbara Bray

Lindsay Brotherson

Officers
Suzanne Griggs

- President


Lindsay Brotherson

- Vice President

Rock Ross - Treasurer
Barbara Bray

- Secretary



Committee Directors
Suzanne Griggs

- Adoption Coordinator

Lindsay Brotherson - Foster / Volunteer Coordinator
Barbara Bray - Medical Coordinator and Website Administrator

Lindsay Brotherson - Assistant Medical Coordinator
Sara Cox - Facebook Administrator


Address
Texas Adopt a Greyhound Society, Inc.
P.O. Box 703782
Dallas, TX 75370
Phone
214-368-TAGS (8247)
855-TAG-TAGS (824-8247)
TAGS background information:

Texas Adopt a Greyhound Society is a relatively new organization. TAGS is an all volunteer, non-profit group that depends solely on donations. ALL donations are used solely for the care of the Greyhounds. The leaders of TAGS have numerous years of experience as members of other successful Greyhound adoption groups. TAGS will not receive more Greyhounds than it can place in experienced foster homes. The foster families will prepare dogs for adoption by socializing them in the home and in public, attend to medical needs and procedures, and present them to the public through Meet and Greets and suitable events.
Foster families will prepare the dogs for adoption rather than keep them in confined kennel conditions. This is the driving philosophy of TAGS. The number of dogs the organization accepts will be limited by the number of available foster homes at any given time.

The founders of TAGS have worked actively and extensively in:
Direct communications with track operators, breeders and trainers;

Intake evaluation of personalities and coordination with veterinarians for all necessary medical reports and procedures including disease treatment and sterilization;

Fund-raising;

Transportation, both short and long haul;

Volunteer coordination;

Foster coordination and training;
Adoption procedures and coordination;
Post adoption follow-up and support;
Marketing;
Cordial working relationship with racing industry organizations;
Partnerships with other Greyhound adoption groups;
Partnerships with other breed organizations in fundraising and support; and
Community development with children, senior citizens, handicapped and school entities.
TAGS' Focus is to:
Educate the public about the desirability of adopting Greyhounds as companion pets in the home;
Provide continuing educational support to the adoptive family after placement to ensure a successful adoption

Recruit and support an organized volunteer base of Greyhound lovers who share the mission of responsible placement of the breed into adoptive homes;

Develop coalitions with like-minded rescue and adoption agencies – not necessarily exclusive to Greyhounds;
Connect with Greyhound adoption groups worldwide;
Prevent cruelty to animals and promote animal welfare, and;
Stress the importance of spay and neuter as a means of controlling the number of unwanted animals.
TAGS collaborated with Assistance Dogs of Texas in training and placing Greyhounds in its program as Balance Assistance Dogs. TAGS also provided Assistance Dogs of Texas with pro-bono assistance in developing fund raising items and a website.

Texas Adopt a Greyhound Society, Inc. ~ P.O. Box 703782 ~ Dallas, TX 75370
214-368-TAGS(8247) or 855-TAG-TAGS (824-8247)