Date Received: October 21

, 2012




H

istory:

Stella is the "C" pup in the litter of Tippi (KNK Kiowagitgone) and Bill (Nita's Wild Bill), making her sibling to Chaucer (now Gibbs) and Red (now Hank). There are still more in the litter so we may get those later. Stella, although tattooed, was not registered with the NGA and consequently has not been trained to race. Her year and a half of life has been spent on a farm with her siblings. She is a "kennel favorite" and has a very sweet, friendly personality. She seems very eager to get to know people.
Not individually registered on Greyhound-Data.com.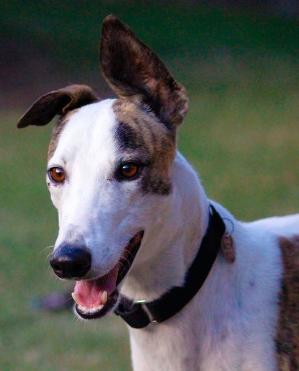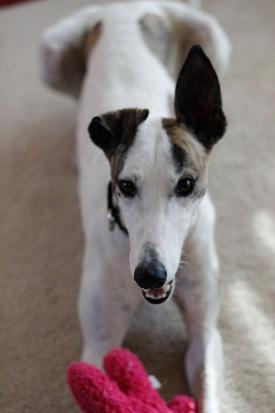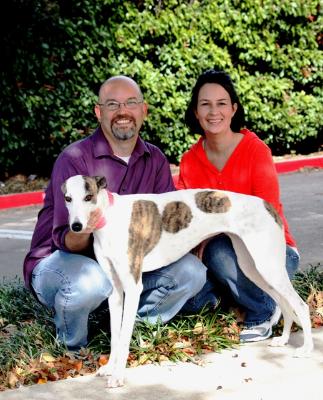 Stella and new family Wayne and Karen and canine brother, Crash (formerly Prince) - not pictured.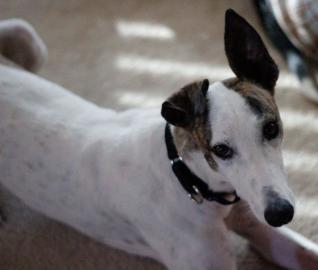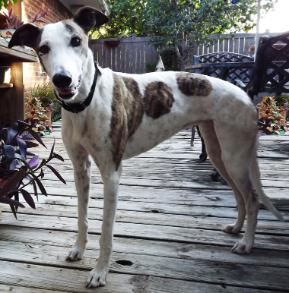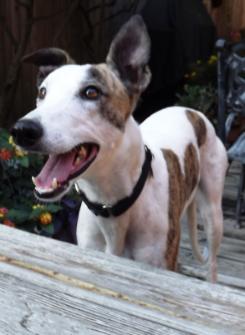 November 10, 2012: Stella found her lifetime home with TAGS boy, Prince (now Crash). Congrats to all!

October 25, 2012 update: So far, so good with the cats and small dogs. She has graduated out of the muzzle. Stella sleeps all night on the dog bed . She is a very sweet and loving girl. She loves squeaky toys, but she hasn't gotten the nerve to play with humans yet. She hasn't had an accident in the house; she caught on to that quickly. She seems very comfortable so far. Crates are not her thing - she doesn't enjoy being in the crate and only reluctantly goes into the crate. Maybe with time, Stella will think of her crate as a sanctuary.
October 21, 2012 update: Stella's first day in a home has been a whirlwind for her. She had a bath and manicure before she was picked up so she avoided that trauma today. She has been in a home all day with other Greyhounds (all male) and her brothers came for a visit this afternoon. All six dogs had a blast running around and chasing each other. Then they would come in the house and plop down on the floor, tongues hanging out, for a rest. Stella has already picked up some toys. Of course, she is only 18 months old, so she is still a puppy and will need to learn what is permissible and what is not. She will become familiar with a water bottle quickly. She has taken several naps on her dog bed today, so it appears she will settle in easily. She's is on the small average size with a nice silky coat. You will learn more about her as her retirement education progresses.