Date Received: November 8, 2015



H

istory: Cute little Gwen, a red fawn with a dark muzzle, decided racing was not going to be for her. Even before she was 18 months old, her trainer and she decided she should take early retirement. She didn't have the desire or talent to be a competitive racer. Her littermates must be musically inclined (Ed Sheeran, Gavin Degraw and Mark Ronson – Gwen must be "Gwen Stefani") but it remains to be seen how they do as racers. Gwen and TAGS' alum, Watson, have the same dam (CTW Folk Singer). Gwen's sire is CTW Bronze Drake (the same sire as TAGS alums King and Joy). Gwen needs some time to get used to being in a home. We will update her bio as we learn more about her.
See is not individually registered on Greyhound-Data.com.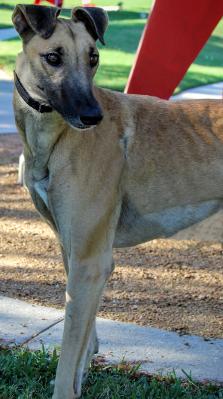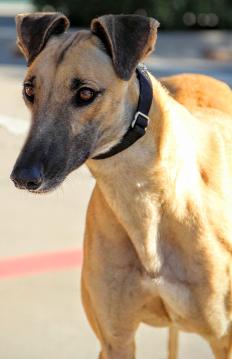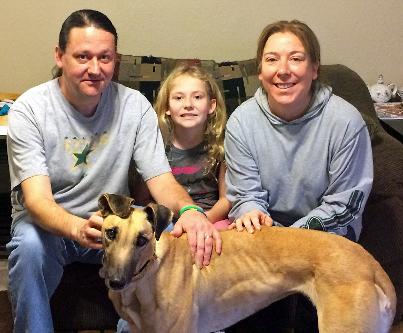 Gwen and her new family: Richard, Lilly and Jennifer. Congrats to all!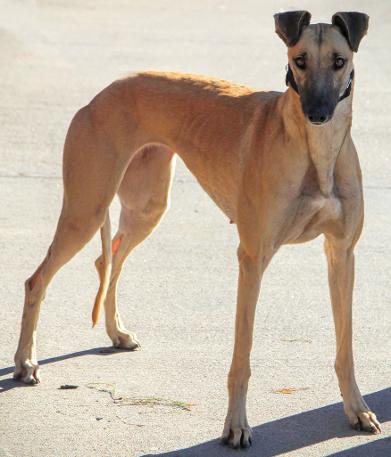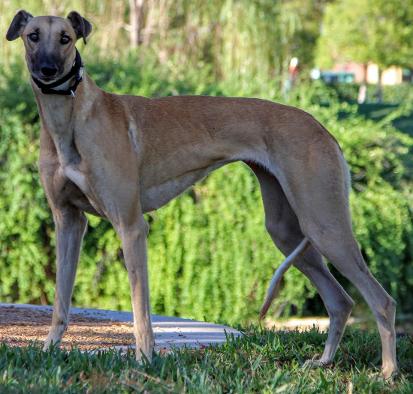 January 9
, 2016 update:
Gwen found her loving lifetime home. Congrats to her and her new family.
November 20
, 2015 update:
Gwen is a young dog that had never been away from the farm so there were many, many new things for her to experience. Some of those things were a little scary to her. However, Gwen has really come out of her shell the last few days. She has yet to lay on a dog bed but will rest her head on one. She has the personality of a puppy but wants to learn and has recently discovered that she loves to have her ears scratched. She loves to play fetch and will bring the ball back 80% of the time. The rest of the time she runs with it in her mouth or will chew on it. Gwen is still a little shy about coming to you when you call her but is learning. She loves kids and will play for quite a while with them. So far she is just curious about cats, almost scared. We will cat test her again in a few weeks after she is settled more.
November 8
, 2015 update:
Gwen
came to TAGS for a life of retirement and to find her loving lifetime home.