Date Received: November 3, 2023



Birth date: January 16,

2021

History: Bobby came to TAGS from Greyhounds as Pets, New South Wales, Australia. He arrived in the U.S. on November 2, 2023 after a 15-hour flight from Sydney. Bobby has been completely vetted. His dam is Chasin Bobbi, and his sire is Whiskey Riot. According to Greyhound-Data, Bobby ran 26 races (and came in first only 2 times).
The handlers in Australia said Bobby is a bog loveable boy and enjoys human interaction. He is moderately energetic but will bond well to his person. TAGS was also told that Bobby has a "high prey drive towards poultry." It is a good thing there are no chickens, ducks or geese at his foster home (only two male TAGS Greyhounds). Bobby was a favorite of the handlers at the kennel, who have requested that they be kept informed of Bobby's integration into his new home. They hated to see him go.
Bobby is an average sized red brindle boy (with quite the fuzzy farm coat). He has the sweetest eyes. He may turn into a Velcro dog very quickly. He found the bed in the car on the way to his foster home and slept the entire way. He enjoyed meeting the Greyhound boys in his foster home.
In Texas he is in a foster home with two other male TAGS Greyhounds. His bio will be updated once he settles into his foster home and recovers from jetlag.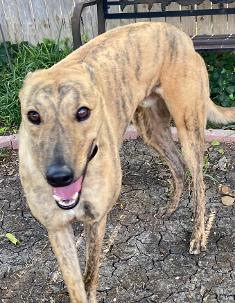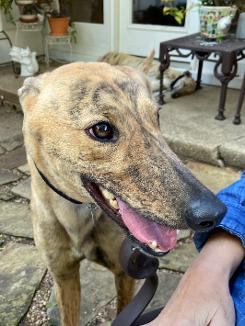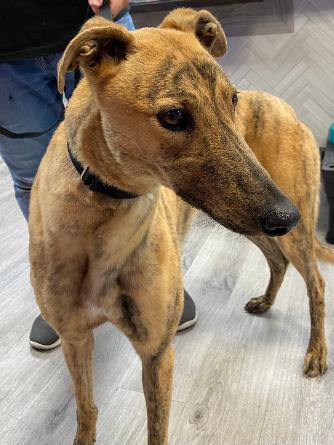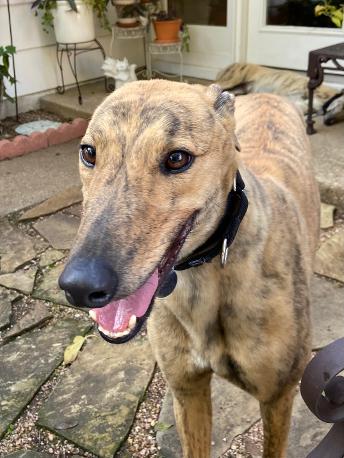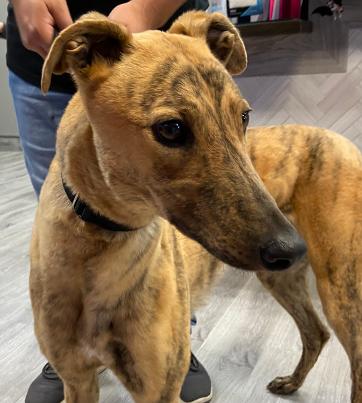 November 19, 2023 update: Bobby is still fascinated with squirrels. Not sure what he would do if he actually caught one – fortunately that has not happened. He is also learning to take neighborhood walks on a leash. He had virtually no reaction to a cat. Mild interest but no pulling on the leash or looking for the cat. It may be different with a longer test, so supervision and training are advised. With all of his new interests, his favorite thing is being petted by his human – or any human.
November 3, 2023 update: Bobby came from Australia to TAGS for a life of retirement and to find his loving lifetime home.