Date Received: June, 13, 2012




Rainbow Bridge: April 15, 2022
H

istory:

Strider is littermate to Kylie (now Cricket). Like Kylie, he was not previously named, was not individually registered with the NGA and did not race. Strider has been waiting at the farm for a chance to find his forever home. Strider, like Kylie, is one of Trinity's pups. That makes him very special. He is settling in to a home and at this time is sound asleep on the floor. The afternoon storm did not appear to bother him. The first impression of Strider is that he is very affectionate and friendly and will be one of those boys that follows his human everywhere. In addition to a laid back personality, he's a beautiful, rich colored dark brindle.
(Not individually registered with the NGA.)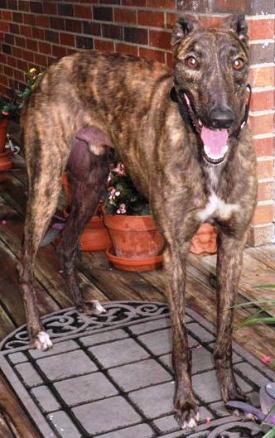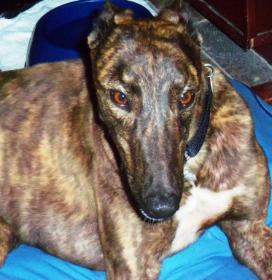 June 22, 2012 update:
Strider was adopted and now is with his sister, Kylie (now Cricket) in their lifetime home.
June 14, 2012 update:
Strider's first night in a home was uneventful. He got along great with the other dogs, ate his dinner, did what he should outside, tested all the beds, picked up a toy, slept well (after he decided I probably wouldn't pet him all night). This morning it took a little longer to get ready for work because Strider's head is always at the end of one of my hands. While getting ready, his head was resting on the bathroom counter – either wanting to be petted or admiring himself in the mirror (he even whined at that handsome dog in the mirror). The belly band is on but he's learning. He definitely wants the security of being near a person (at all times). He's off to a greyt start as a pet!!