Date Received: May 16, 2012




H

istory:

Kylie is not individually registered with the NGA and did not receive an "official" racing name. Of course, TAGS took care of that. She's now officially Kylie and a member of the TAGS family. Some of her littermates are registered so we could look up her pedigree on Greyhound Data. She does have one special TAGS family distinction. She is the pup of Go Go Dream (TAGS' Gidget, now Trinity). That makes her part of the TAGS family in more than one way. We'll have to get those two together soon.
See Greyhound-Data.com for more information.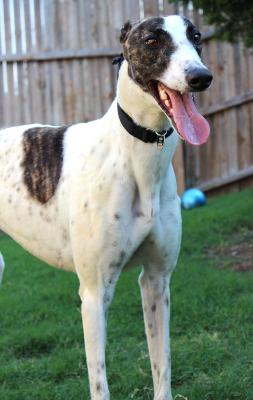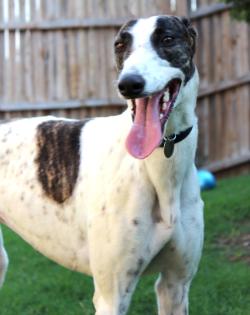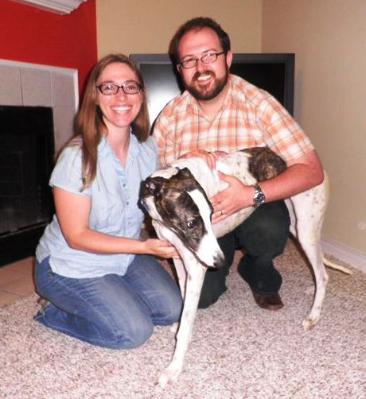 Kylie (now Cricket) adopted by new parents, Ian and Sara.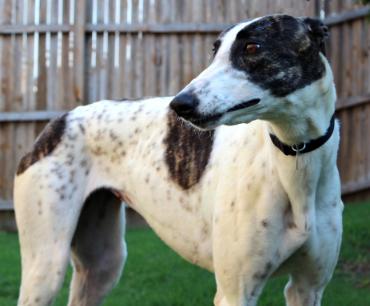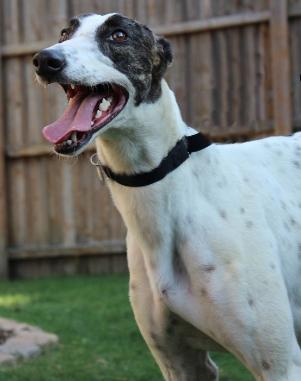 June 1, 2012 update: Kylie, now Cricket was adopted to her loving, lifetime home.
May 16, 2012 update: Kylie came to TAGS to find her loving, lifetime home. Kylie is a young girl and was supposedly a kennel dog, but from the way she acted today, you would have thought she was used to living in a home. We believe that she is the dog that coined the phrase "Velcro Dog." Kylie seems to have one goal in life – to be petted – continuously. You can't type on the computer unless you can catch the mouse as it flies away when she bumps your hand over and over again to get your attention (and more petting). Even if you could type, you probably could not read it because she constantly bumps your hands – you guessed it – more petting. No matter where you are, she's there – head in your lap, head under your arm, head on your leg – bump bump bump pet pet pet.