Skunky (CTW Texas Fever), now Smokey
Date Received: July 25, 2016



Birth date: November 18, 2014
H

istory:

Skunky is the first Greyhound we have received from a breeder that we have followed since he was barely weaned from his mama, CTW Sweet Trent. We will post pictures of this boy from the time he was held in a volunteer's arms until now. Skunky (as you might imagine he has a white stripe on his head, a big white blaze and white feet) is only 20 months old and has had no races so he does not have much "history" yet. It appears that he did not make the cut as a competitive racer and will go straight from the farm to adoption. It appears that the rest of his litter (out of sire, KC and All) didn't fare much better – only 2 are racing. Enjoy watching him (through photos) as he grew from a little pup to a big handsome boy. Once Skunky joins his foster home, we will learn more about him.
See Greyhound-Data.com for more information.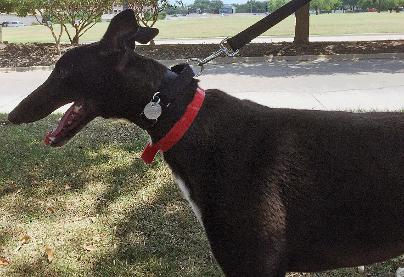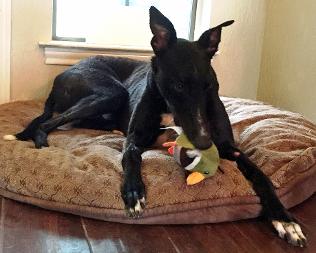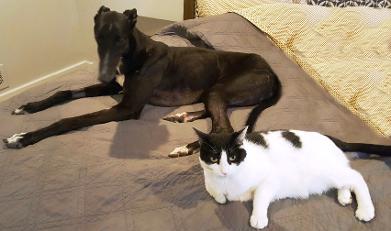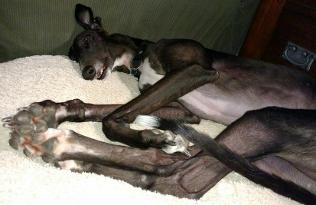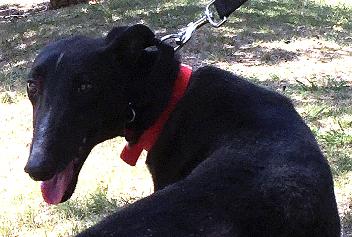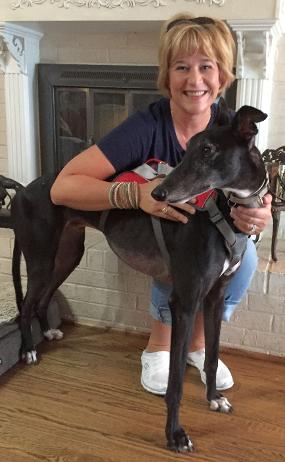 Skunky (now Smokey) and new mom, Lisa.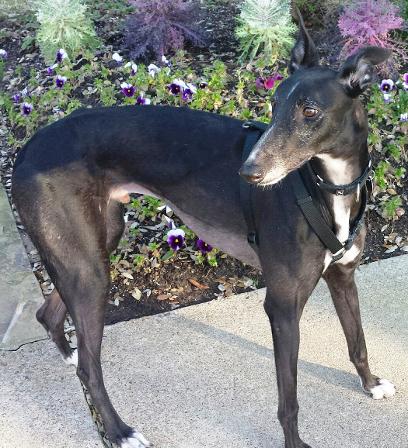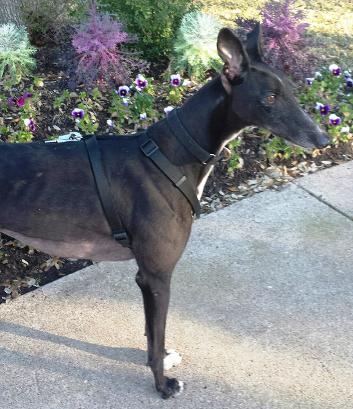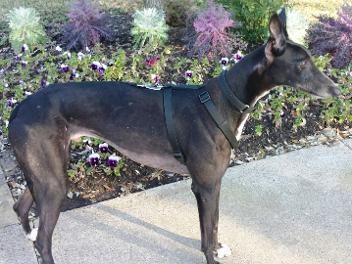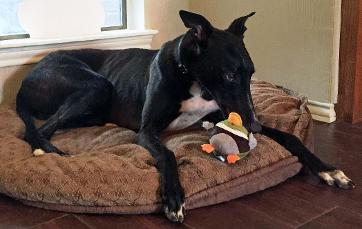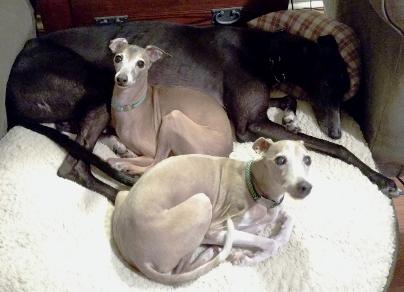 Skunky giving protection to his foster brothers during a thunderstorm.
September 3, 2017 update: Skunky (now Smokey) has found his forever home with new moms, Lisa and Cindy, and Greyhound sister, Star. Congrats to all!!!

August 1, 2017 update: Skunky's time in a TAGS foster home has been good for him. He is much more settled than when he first came back to TAGS. He has integrated into the pack very well and tries to instigate play with the other greyhounds (some of which are not very interested). He loves to play with toys (but is not a destroyer). He sometimes has a high energy level when he is outside. He can spin like a whirling dervish. He has become accustomed to being in a home and eats without distraction, lies on a dog bed (although he likes "special beds" which are usually in a corner or otherwise not out in the open), crates well, rides like a champ in the car, sleeps soundly at night, and generally enjoys his life. That is not to say that all of Skunky's quirks are gone. Those are just part of his personality and will probably be a part of his life forever. He still looks up (lights seem to attract his attention the most – even reflections of lights) and he paces sometimes. His pacing is a slow walk through the house, not an urgent, frantic pacing. He still sometimes has repetitive behaviors (making the same circle, especially outside). One of Skunky's most endearing qualities is how affectionate he is. He adores people, is very friendly and insists on being petted and being part of getting attention (even if he has to poke his head between the other dogs). Skunky always gets excited when you bring out the leash and his harness (which is a necessity). However, once you take him some place unfamiliar, he is not quite as happy as he thought he would be. We do not know if Skunky will ever develop into a dog that likes to try new things. I would describe his personality as playful and goofy. He makes you laugh. His quirks only make him more lovable – and he will take all of that he can get!!

February 28, 2017 update: Skunky's new foster home info: We all have our little quirks, right? One of Skunky's is his heightened awareness of things over his head. Patience is required the first few days to get Skunky settled into his new home, but it is SO worth the effort. He's the sweetest, most affectionate, sociable and funniest dog we've had in our home in a long time. Any quirks Skunky has are quickly outweighed by his many good traits.
Skunky does great with our two greys…he will do best with at least one other 4-legged friend to be with him. He takes his cues from them…like going outside, where to eat, etc. Skunky is very smart. He learns after only one or two instructions. And he's cat and small animal tolerant, also a big plus. His internal clock works just fine – he knows exactly when it is time for his breakfast piece of banana and afternoon treat. In the two weeks he's been here, his true personality has come out – he's full of spunk and spirit and Skunky makes us smile and laugh numerous times a day. As he's gotten more comfortable, we've learned how much Skunky loves stuffed animals…especially those that squeak. He wags the toys out of the basket and plays with them all around the house. The next thing you know, he's spinning and bouncing around with them but he's not a destroyer of toys.
The first couple of days were "interesting". We've never had a dog that looked at pictures, clocks hanging on the wall, or lights up high. Skunky's not scared of those things, he just had to check them out…many times…during those first few days. Let's just say he's apprehensive about unknown places and high things until he gets used to his surroundings. He also tends to pace, but not in a stressed way. After we realized it's just his way, we left him alone and eventually he goes to his crate, with the door open, and lays down. After several days, the intense looking up and pacing was so much better. Now after 2 weeks, he's very comfortable with his surroundings here. That doesn't mean he doesn't still look up or pace occasionally, but it's lessened every day.
A big surprise to us was how good he is on the leash when we take him for a walk. Very well mannered, not interested in other dogs along the way, not bothered by trees or car noise…really, just a pleasure to walk. Also, Skunky's good in the car as a passenger and he loads into the car with a single command.
All in all, he'll make a great, fun companion in some lucky home. Be patient and let him be himself.

January 15, 2017 update: Skunky has a few idiosyncrasies. When he is up and about he seems to be anxious (not sure he really is, or if it is just his way). The anxiousness seems only to be about those things which are his head (lights, fans, awnings, trees, pictures, etc.). Skunky is a very sweet boy and is not afraid of things like thunder, nail trims or baths. He does not fear people or other dogs He's very compliant. He is smart and learned quickly what "let's go outside" or "let's go to bed" means and will either run to the door or run to my bedroom and claim 'his' bed for the night. He sleeps all night on his own bed and does not move around. He also runs to his kennel when I am leaving the house and waits for his treat. I believe that he is a dog that will need to be with at least one other dog to give him confidence and security. He also does well in public (at meet and greets). With his idiosyncrasies, Skunky is a dog that needs a firm 'pack leader' and should not be coddled (which only confirms his anxiety) but needs to be treated like all the other dogs in the household and not allowed to do any behavior that is not acceptable. He does best with a consistent routine. Most of the time he is happy to lay on a bed in the same room where you are and does not seek a lot of attention. Although he is more than happy to take all the love and petting you will give him though and is a sweetheart!
December 15, 2016 update: Skunky returned to TAGS to continue his search for his forever home.

August 14
, 2016 update:
Skunky found his forever home with his brother (litter-mate)
Thunder
with the Osoreo family. Congrats to all!
August 7, 2016 update: It has been determined that this sweet boy is cat tolerant. Bonnie the cat is cool with Skunky too.

July 25
, 2016 update:
Skunky came to TAGS for a life of retirement and to find his loving lifetime home.
TAGS got to meet Skunky when he was just 2 months old.
We got to see Skunky again when he was just 4 months old.