Date Received: October 26, 2015



H

istory:

Sammy raced over 100 times (107 according to Greyhound Data and 120 according to Track Info), beginning on February 13, 2013 and ending on October 12, 2015. So you can see he is "fresh off the track." His dam is CTW Trivia (from the Greys Statesman line) and sire is CTW Speedy Trent (from the Trent Lee line). Two others in that litter ran more than 100 races as well. Now Sammy is ready to settle down. I'm sure it will take a while to change from race mode to retirement mode, but he'll find out what the advantages are once he gets to his foster home. Welcome Sammy to the retirement life.
See Greyhound-Data.com for more information.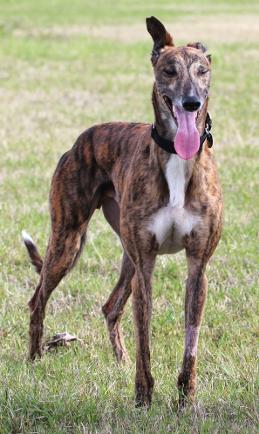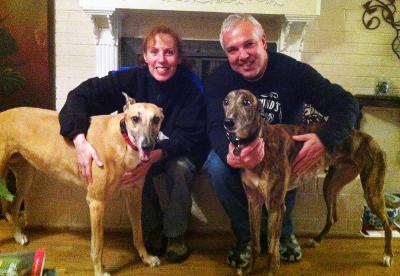 Sammy and his new family, Lisa and Craig and greyhound, Sydney.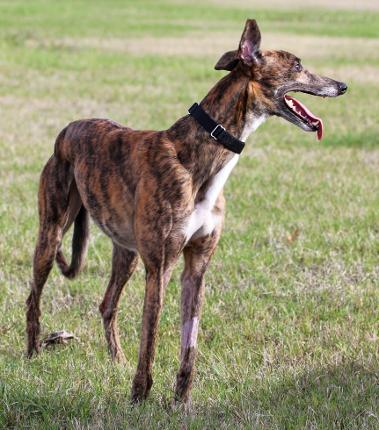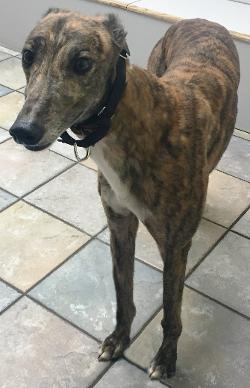 December 27, 2015 update: Sammy adopted to his lifetime home. Congrats to all1

December 6, 2015 update: Sammy had a sleepover with the Thomas' and three cats (and Luke and Hildy, of course). Although interested when one of the cats (or all – he doesn't care about color) run, Sammy wants to follow. However, after 24 hours of "NO KITTY!!!" he got the idea (repetition makes for emphasis). A new owner will need to work with him but once the cats have left the room, he goes back to what he was doing before he alerted to them. He does not search for them. He seems to be more interested in the movement than the cat itself. During the weekend he earned the nickname "Hammy Sammy" because he is so friendly and excitable and constantly wags his tale. He craves attention. In his regular foster home, Sammy has learned the household routine with no issues. He stays in his crate while his foster dad is at work. He rides very well in the car and is always at the ready to go on an adventure.
October 26
, 2015 update:
Sammy
came to TAGS for a life of retirement and to find his loving lifetime home.