Date Received: May 16, 2016



Date Adopted: July 13, 2016

Date Returned: December 7, 2019

Date Adopted: February 24, 2020

H

istory:

Mary had a short racing career (13 races) at Wheeling Downs and Southland.

Mary suffered a broken rear leg in her last race. Mary has been recuperating at the farm since November 2015 so she's ready to find her forever home.

Mary is half-sister to TAGS' alums, Dirty Dancin (Dancer) and Dancin Dame (Dana now Zelda), having the same mother, CTW Pole Dancer. She is part of the Gable Dodge line on her sire's side (Gable Sour Cream). According to the kennel manager, Mary "is a doll – you will love her". We will learn more about Mary after she settles into her new foster home and discovers the wonders of retirement life.
See Greyhound-Data.com for more information.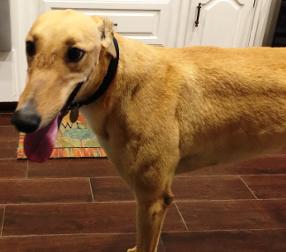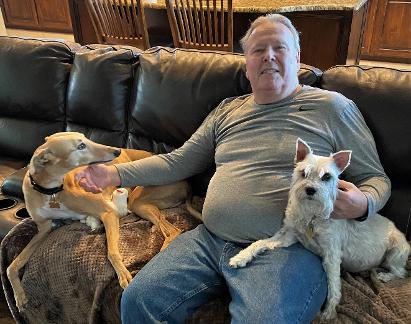 Lucy with Jim and canine companion, Zoey.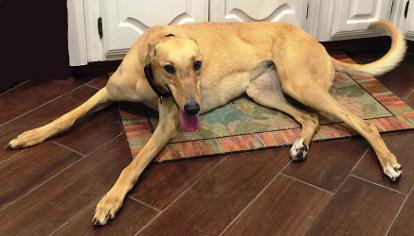 February 24
, 2020 update:
Lucy found her forever home. Congrats to her new dad and
canine companion Zoey.
December 12
, 2019 update:
Lucy was returned to TAGS to find her true forever home.
July 13
, 2016 update:
Mary, now Lucy, went to her loving forever home with Ric. Congrats!!
June 3
, 2016 update:
Although Mary's broken leg was put in a cast and the break is healed, Mary continues to limp on that leg. She has been referred to the Dallas Veterinary Surgical Center for further evaluation. More will be posted after her appointment.
May 16
, 2016 update:
Mary came to TAGS for a life of retirement and to find her loving lifetime home.