Date Received: June 2, 2011




Rainbow Bridge: December 20, 2021

H

istory:

Although he decided not to race, he started as a Lieutenant and retired as a Major after schooling and was sent back to the farm. That's just fine with him. He's decided he prefers a soft bed and even enjoyed a bath.

Major went to what he thought was his forever home for a short time, but things did not work out as he expected.
See Greyhound-Data.com for more information.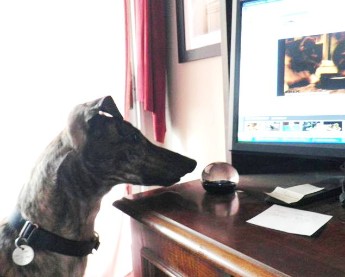 Major watching a YouTube video! Silly boy!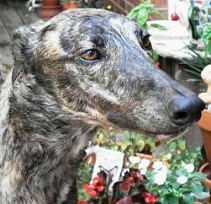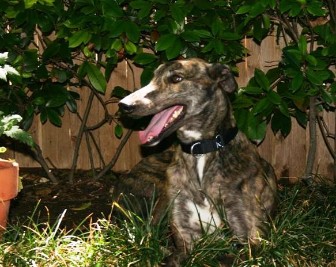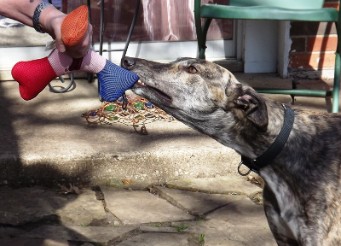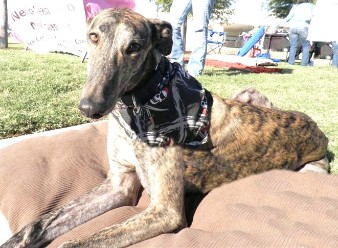 April 24, 2012 update:
Happy Birthday and Happy Gotcha Day to Major!! Major was adopted to his lifetime home on his third birthday. He told his foster mom all he wanted for his birthday was for her to keep him forever! He got his wish!


October 28, 2011 update:
Major loves being in a home with other greyhounds and having a yard in which to romp. He's a very smart boy and learned "sit" and "down" easily. He's now getting the drift of "give me a paw". We are working on kitchen etiquette. Major is a small boy with a big, affectionate personality.
July 21, 2011 update:
Major's Sleepover Adventure: When we were asked if we could keep this handsome boy for a week, we both said "what's one more - 2 dogs (Ringo and Luke), 3 cats (Bonnie, Maggie, and Izzy), plus Major....SURE!

Major was an enjoyable addition to our large family even if it were only temporary. He kept things very interesting such as finding a way to escape the "crate", helping sort laundry because the other boys were doing it, and most of all curiosity about the cats.

If Major had a middle name it should probably be "Ninja Dog". It never failed, we would leave for a quick errand locking up the boys in the laundry room with a gate as usual and when we would get home there was Major looking at us through the back doors, wagging his tail with those cute ears perked up as if he were supposed to be out free to roam the house doing whatever. What we wouldn't take for a bird's eye view...there is no telling what went on in that short amount of time!

Ringo and Luke love to help do laundry so of course Major follows right along. I sort the clothes into piles and soon the piles begin to disappear. We would look up and there all 3 would go with socks and pants hanging out of there mouths and the minute you say their name and chase after them, they would take off acting as though it was playtime outside with a fetch toy. You can't help but laugh and love'em (most of the time)!

Last but not least during Major's visit, he was introduced to 3 lovely fe'lions" which he was quite curious about but coexisted as if it were normal to him. Yes, he would stroll by and Izzy would hiss viciously but Major soon figured out, "don't walk by - don't get hissed at." It was in no time he and I were lying on the bed cuddled up watching movies when all of a sudden Bonnie, the most fearless cat ever, would come and lie upon Major. It was then we knew he could live with anything!


Thanks Major for the wonderful adventures (many left unsaid). We enjoyed you so much and the boys miss you most of all.
Come back and see us soon!