Ayasha (CTW Ayasha) now Abby
Date Received: January 18, 2016



H

istory:

Ayasha is the product of two CTW dogs, CTW Speedy Trent and CTW Matineemadam. Ayasha and her three littermates all raced. Ayasha started her career at Birmingham and ended her career in Wheeling Downs on October 7, 2015. She had a respectable 52-race career but was nothing spectacular on the track. She must have been the one in the group that was always looking for a party – and worry about the consequences later. In the turnout pen where she was waiting to picked up by a TAGS representative, she was having her own party – playing with her muzzle which she had removed – kicking up sand everywhere. It is doubtful that this playful little girl will have any trouble adjusting – especially if she has other dogs to participate in play time.
See Greyhound-Data.com for more information.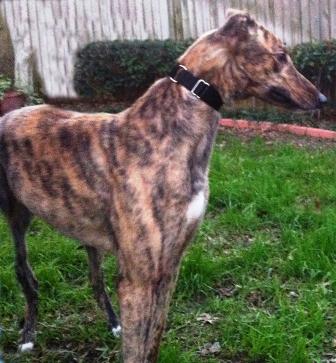 October 1
, 2016 update:
Ayasha, now Abby, has found her forever home and a new fur sister, TAGS alumni, Koko. Congrats to all!
September 22
, 2016 update:
Ayasha (Ava) was returned to TAGS.
February 27
, 2016 update:
Ayasha, now Ava, has found her forever home and a new fur brother named Jack. Congrats to all!
January 18
, 2016 update:
Ayasha came to TAGS for a life of retirement and to find her loving lifetime home.
First day in retirement: She was a great traveler – snoozed all the way. She stood still for her bath at Pet Supplies Plus and steeled herself for her blood draw at the vet. She was a little antsy having to wait to be seen but picked up on her nap as soon as she was back in the car. When she met her Greyhound housemates she was delighted to have someone to run with in the yard. Even though it was a very stressful day she ate all of her dinner. It didn't take but about 30 minutes in the house before she started gathering up all the toys and putting them on a bed. Then she would playbow and wag her tail at each one.