Vana (CTW HaHa Havana), now Havana
Date Received: April 9, 2017



H

istory: Vana does not have a lot of history since she is not 2 years old yet – almost – she will be 2 on

May 2, 2017

. She and her three siblings were registered to race (2 went to the track) but although trained, she really was not all that interested in chasing the "bunny". She likes to run but only for her own entertainment. She put on quite a show doing zoomies around the turnout pen at the farm. Her dam is CTW (Brouhaha (hence the "Haha" part of her name) and her sire is Barcelona Boss. As always, Vana had a big day on her first day of retirement. She stopped at Natty Flat Smokehouse for lunch on her way out of town. Then once she arrived in Dallas she had the dreaded bath, which she definitely did not enjoy. She then came to her foster home and met the resident Greyhounds. At least that was something that was familiar. So, now she found a dog bed and is taking a nap. She is such a pretty girl, with black eyeliner and cute perky ears. Her progress will be updated as she settles into retirement.
See
Greyhound-Data.com
for more information.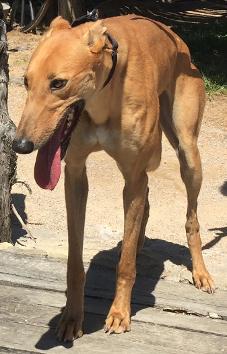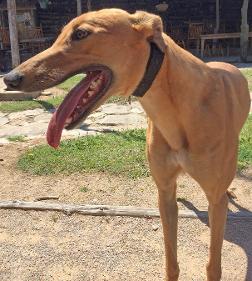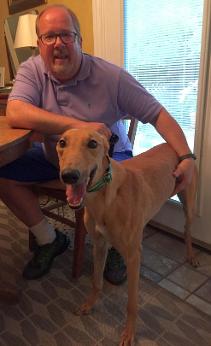 Vana (now Havana) with her new dad, Gregg!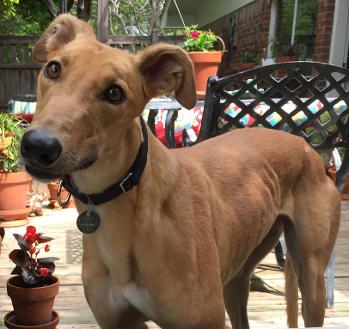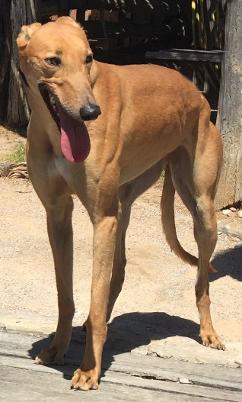 June 5,
2017 update:
Vana, now Havana has found her forever home with a prior TAGS adopter. Congrats to Havana and her dad, Gregg.
April 9
, 2017 update:
Vana came to TAGS for a life of retirement and to find her loving lifetime home.