Date Received: March 14, 2019



Birth date:

December 17, 2016

Rainbow Bridge:

November 8, 2023
H

istory: Truitt is the only pup TAGS received from this "T" litter of Trent Lee, Sire (Truitt has 4371 half siblings from him out there somewhere), and Eyes Teasing, dam. All 8 dogs in this litter are black (usual for Trent Lee pups). Truitt was on his way to a racing career when he broke his leg in training. After his leg healed and the cast came off, he began sprinting but could not return to racing because of the pressure his back leg on the turns. Truitt has been waiting for a spot in the TAGS family. He's a fairly large boy and has lots of energy. He is very friendly and affectionate. He rode in the car like he had always done it – sleeping all the way. He got a bath, went to the vet and met his new foster dad. He wasn't crazy about getting out of the car, but by the fourth time he had it down. We will update Truitt's bio as he becomes more comfortable in his new foster home.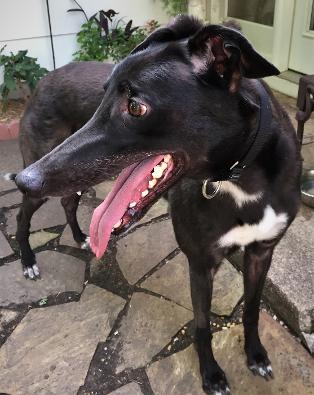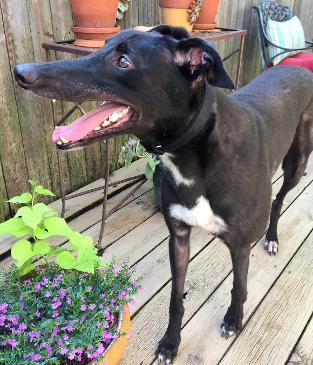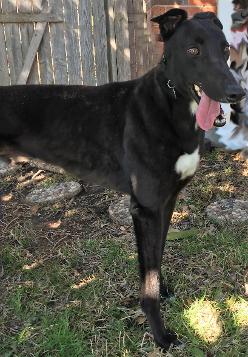 Truitt is now a member of the LaGesse family.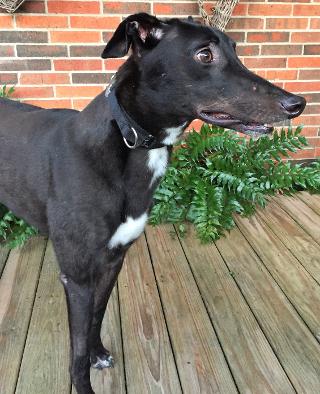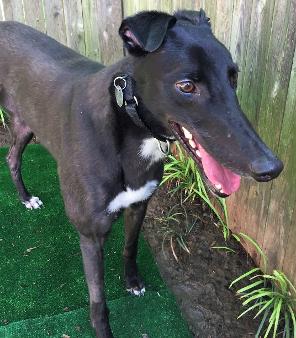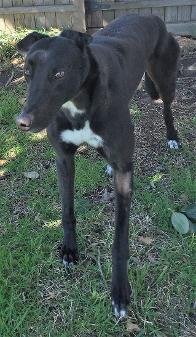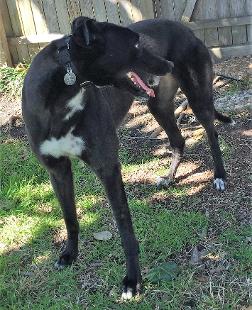 Truitt and kitties!
Truitt sharing space with Dash and Lily, the cat.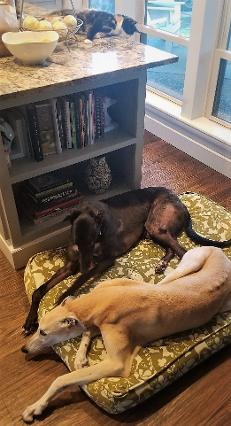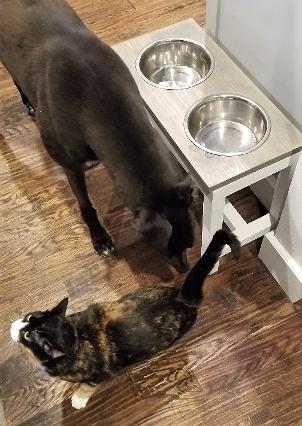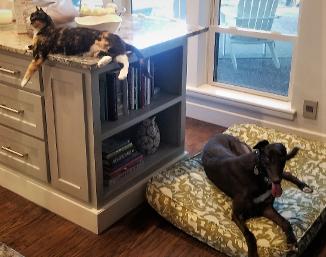 December 30, 2019 update: Truitt found his forever home with the LaGesse family and other TAGS Greyhounds as siblings.

November 24, 2019 update: Truitt came back to TAGS to continue finding his forever home due to changes in his families circumstances.

September 14, 2019 update: Truitt joined his new family, Samer, Kaylie and Lexie today, September 14, 2019. Congratulations to all!

June 9,
2019 cat test update:
After a day and overnight visit to a home with 5 cats (and 3 greyhounds), Truitt is considered to be cat tolerant/trainable. He notices the cats when they run and for a while will need to be reminded "no kitty." Truitt does like to play with toys so moving cats are of interest to him until he realizes what they are. When he first went in for a smell of one of the cats, he was hissed at and swatted in the face. Once Truitt became accustomed to the cats, he became just one of the lazy greys in the house. In Truitt's first cat test he showed interest in the cat (who is elderly and blind)and it scared the cat. They put the cat in the bathroom with the door shut and Truitt was interested in finding out what was behind the door. As with all Greyhounds and cats, Truitt will need to be supervised and corrected if he shows too much interest in a cat.
June 6, 2019 update: Truitt, the big boy with the turned up nose, is such a loving boy. Just look at his eyes – almost looks like liquid chocolate. He's open and friendly. Truitt is young and wants to have fun, but he also knows how to chill with the best of his greyhound buddies. He is not a pushy boy but goes with the flow. He is crated during the day when his foster dad is at work. Even though he briefly lets you know he will miss you, he settles down and naps until you get home. Truitt should do well in a home with medium-larger dogs and would enjoy having children to play with him. He stayed in another foster home for about a week and had no trouble adjusting to new dogs and a new environment. As long as you give Truitt some love and petting, his two squares a day and a soft bed, he's a happy boy.

March 14,
2019 update:
Truitt came to TAGS for a life of retirement and to find his loving lifetime home.