Topper (Top Cat), now Trooper
Date Received: November 14, 2012



Rainbow Bridge: September 17, 2020


H

istory:

Topper's 58-race career was at Gulf Greyhound Park and Sarasota, ending on October 13, 2012. It seemed he was usually at the front of the pack or back of the pack – not much in between. I know we say this a lot, but he was a kennel favorite. Topper's brother, On the Road Cat (Gatsby), is a TAGS alumni. Topper has been chillin' at the kennel for the last month just waiting for a ride to Dallas. He can now really begin his retirement
See Greyhound-Data.com for more information.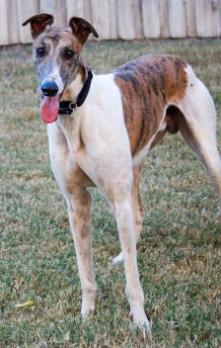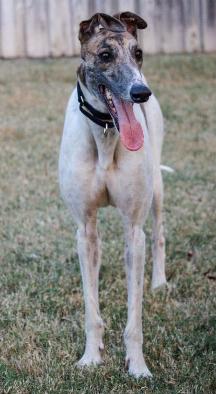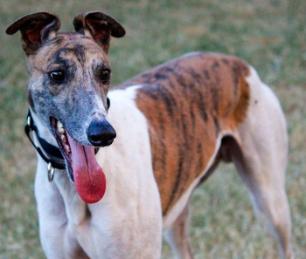 December 23, 2012 update: Topper, now known as Trooper was adopted to his loving lifetime home and joins Greyhound sister Lady. Congrats to all!

November 27, 2012 update: Topper can be described in one word: perfect! He came into our house and made himself right at home. He loves retirement and a soft dog bed. He's a very laid back, easy going dog. He's very quiet – I haven't heard a peep out of him. He lives with an Italian Greyhound that barks incessantly and usually gets the others to join in. Topper, however, doesn't mind the excitement but doesn't get rowdy. He's a very gentle dog. The best thing about Topper is that he's a rule-follower. For example, he doesn't try to get on the couch or on the bed and he likes to smell what's on the kitchen counter, but he hasn't tried to counter surf.
Tops loves affection and will stand forever as long as you're petting him. He's a quiet shadow to all who are in the house. At night, he sleeps all night on a dog bed on the floor in our master bedroom. He is potty trained and doesn't need a belly band anymore in the house since he's been neutered. Cats and small dogs are not an issue for Topper.

November 14, 2012 update: Topper started a new life of retirement by coming to TAGS to find his lifetime home.