Date Received: September 15, 2023



Birth date: September 22,

2020
History: Tippy came to TAGS from Greyhounds as Pets, New South Wales, Australia. She arrived in the U.S. on September 14, 2023 after a 15-hour flight from Sydney (along with Myra). She spent the night in a pet hotel. Tippy has been completely vetted. Her dam is Bokarm Eve and her sire is Oh Mate. According to Greyhound-Data, Tippy ran 34 races.The handlers at Greyhounds as Pets said Tippy is very friendly and gentle. She has some experience with stairs. They also say Tippy has been treated as a pet for a long time. Tippy will need a little time to adjust to her new environment as she is new to house life. She will have to adjust to the Texas weather (it is winter in Australia now).

Tippy came out of the back at the pet hotel with her tail wagging. She has such a beautiful, shiny black coat!! What a friendly girl. She jumped into the car without help and slept all the way to Dallas. She enjoyed playing in the back yard with Matrix. I am sure she enjoyed stretching her legs after the long trip. Her progress will be updated once she has settled into her foster home.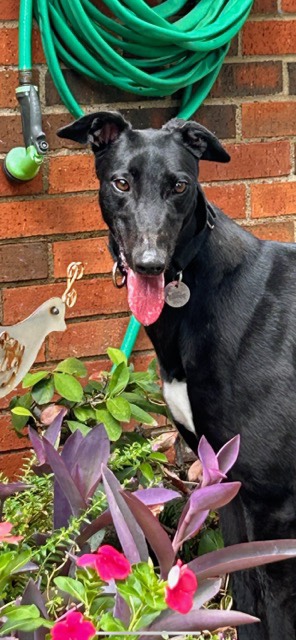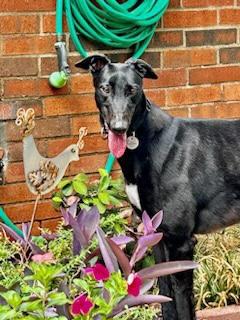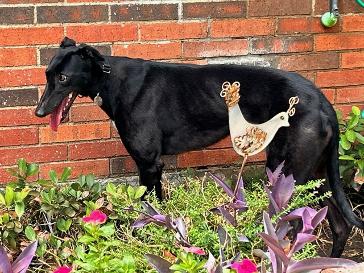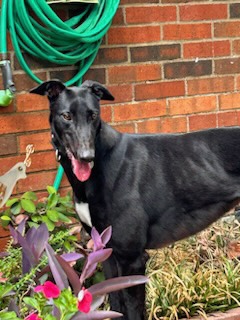 September 15, 2023 update: Tippy came from Australia to TAGS for a life of retirement and to find her loving lifetime home.