Date Received: March 24, 2015



H

istory:

Most of Stealth's eight brothers and sisters raced. Stealth almost made it but broke the stopper bone in one of his front legs during training and before his first official race. The injury healed fine, but it slowed him down just enough to make him not competitive. He was then sent back to the farm to look for a forever home as a retiree. Stealth is a "Flying" dog – with Flying Westover being his sire (from Flying Crestline, and Flying Penske). His dam, CTW Powder Base, is out of the Lonesome Cry, Gable Dodge, Molotov line. Stealth is a beautiful brindle boy, and he knows it. He will have his second birthday soon so he will have many good pet years ahead of him. As always, the first few days away from the farm in a foster home are stressful for these guys. We will update his bio as we learn more about him.
See Greyhound-Data.com for more information.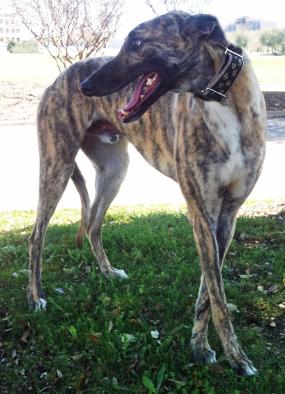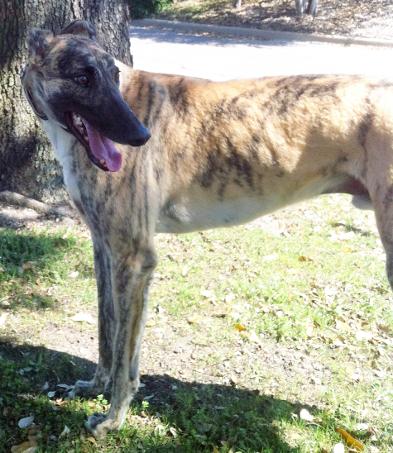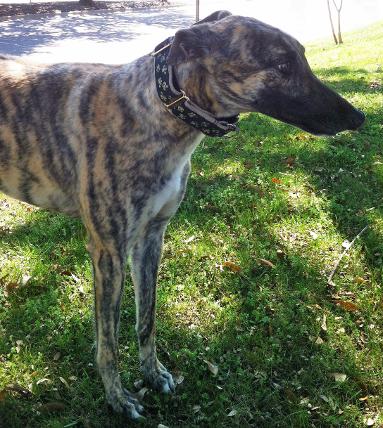 August 23
, 2016 update:
Stealth
went to the Rainbow Bridge today.
April 7
, 2015 update:
Stealth
is adopted and happily living with TAGS alum, Tippi, Chloe and Ashton with the LaGesse family.
March 24
, 2015 update:
Stealth came to TAGS for a life of retirement and to find his loving lifetime home.