Rusty (Superior Thrifty) - ADOPTED
From Rusty's family:
Superior Thrifty, Rusty, Rooster, "Boy"… No matter what you call Him, He was an amazing dog… a companion, a brother, a friend... Family. Beautiful and strong… the makings of a Champion… gentle and loving… a heart of Gold. Unique in so many ways, but relatable and respected… a very important piece in our lives… one that will forever be remembered and never be forgotten. Rusty ran his race and he ran it well… our family laughed, learned, loved and cried with Him right there for every smile, every lesson, every moment… every tear. Rusty weathered storms with us and conquered mountains, as well as, enjoyed the laziest of days… on his bed, a fuzzy blanket, or quite honestly anywhere else he could just lay around… always constant and never wavering. A wish for more time, but thankful for all we had. Angels and Blessings come in all forms and when their seed is planted here on Earth, they leave, often when we are not ready to accept it… but that seed still continues to grow and blossom… Rusty brought us all closer together and showed us a little more about how to love unconditionally. Goodbye's are forever, so for now, we say Thank You… to "Mommy's Boy"… "Rusterz"… "Trusty"… Rusty... Superior Thrifty… Partner in Crime, Leader, Guide to Voyager… Pal, "Brother", Comfort to Grayson and Anna… Protector, Shadow, "Baby" to Gina… and Best Friend until the very end to Andrew. Until that day, We Love You. ~Revelation 21:4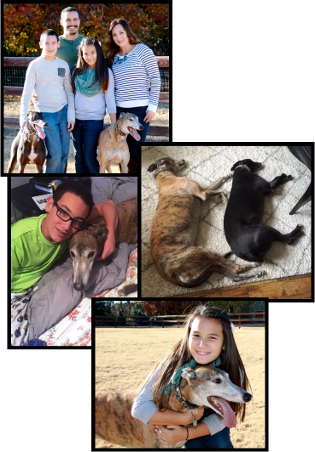 Date Received: April 10, 2011




H

istory:

Rusty moved from track to track over the past several years. He began to slow down and finally decided it was time to retire. The last of his 112 races was at Gulf Greyhound Park on March 20, 2011. His trainer said, "He's going to make a really good pet." After only a few days in a home, it is obvious that is a true statement. What a sweet, friendly,
affectionate boy.

See Greyhound-Data.com for more information.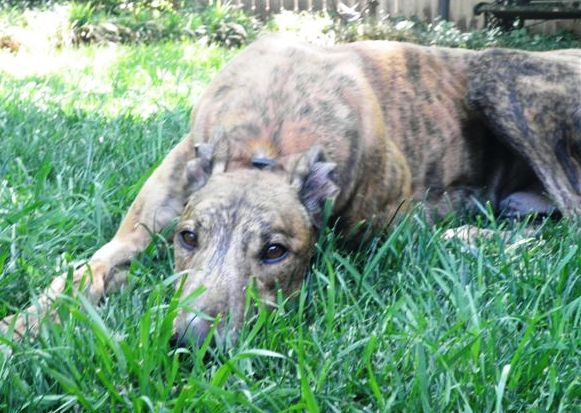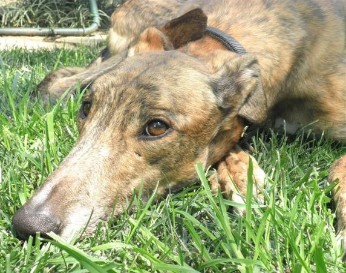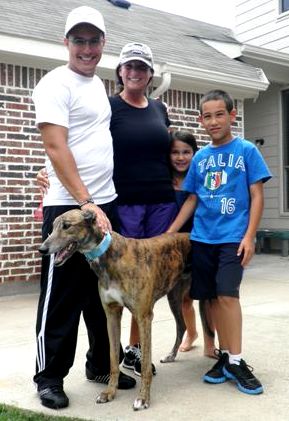 Rusty with his new family, Andrew, Gina, Grayson and Anna.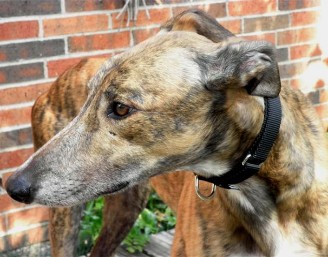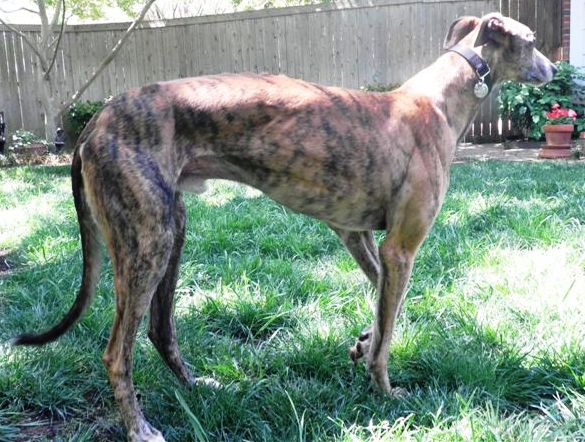 January 18, 2016 update: Rusty went to the Rainbow Bridge.

May 22, 2011 update: Adopted!

May 2, 2011 update: Will Velcro stick to a rusty surface? I think the answer is probably "yes" since Rusty (who is a VERY rust-colored brindle) sticks to me like Velcro.
Rusty's adjustment from track to house has been immediate. Of course, he does have other Greyhounds to show him the ropes. He planted himself on a dog bed immediately. He followed his foster mom around immediately. He did his business outside immediately. He slept through the night immediately. He went into his crate for a cookie immediately. He picked up squeaky toys (well, some don't actually have a squeaker anymore) immediately. He walked well on a leash immediately. He "loaded up" in the car immediately.

Ooops – the one thing he did not do immediately is leave the other dogs' food alone. I still hold his collar while I put down the other dogs' food and tell him to "wait." At last, he gets his food with an "OK Rusty". As you might guess, he always finishes first. In order for him not to try to gobble the others' food, I put him outside as soon as he is finished. This is normal behavior for a dog recently retired from the track or farm. He'll learn.

Rusty does not pull on the leash, which makes him a joy to take to an event. In fact, he likes to go anywhere he can go with a person. He LOVES to be petted – by anybody. He needs to learn to wait his turn.

He's still new to this life of retirement so I'm sure there will be more adventures and more updates.