Date Received: August 25, 2014



H

istory:

Rosie was an Oklahoma girl that was sent to Texas to train with the rest of her litter. All of her litter have gone to a track to race, but Rosie thought playing was more fun than racing. She just didn't have it in her. They knew fairly early that she would not race so she was not individually registered with the NGA. However, we checked her littermates (who were registered). Once we saw her pedigree (grandfather being Greys Stateman and Dodgem by Design) it was evident where she got her good looks. She's is a striking dark brindle girl with white toes, white chest and white strip on her nose). She is a tall, slender youngster with amber eyes. At almost 20 months old, she has many years of fun ahead of her. Maybe she will spend it at your house.
Not individually registered on Greyhound-Data.com.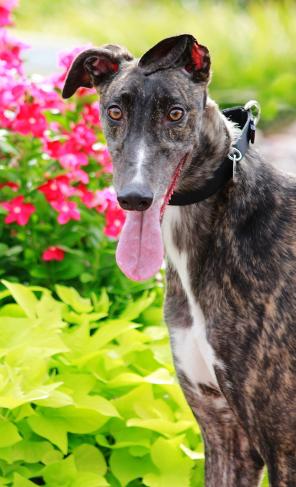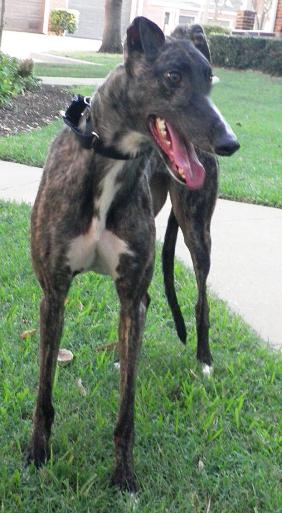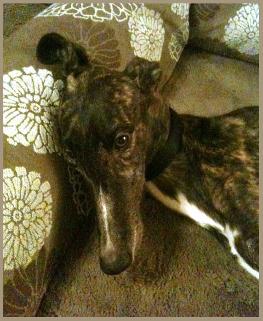 October 25, 2014 update: Rosie (now Tootsie) is living in her forever home with Danny, Teresa and Victoria and TAGS alums, Pippi and Gatsby, (and the cats).
October 11, 2014 update: Rosie has been in a foster home now long enough to know the drill. She learned her name almost immediately. I think she was just glad to be called something.
She follows what the other dogs do and has had no accidents in the house. She sleeps in the bedroom on a dog bed (no getting on the furniture for this girl – I don't think she's even tried), she waits for her food to be prepared (although not terribly patiently), she has no issues with the other Greyhounds in her foster home (both males and females), and she loads into the car by herself and rides quietly. Rosie is smart and eager to learn.
She has developed an interest in toys, especially if she sees another dog playing with one. When it is left, Rosie will take it and play for a short time with it but does not destroy it (most of them have already been destroyed).
Rosie is crated in a room with another dog while her people are away from home. She willingly goes into her crate if a treat is thrown into the crate first (this is a learned behavior). She loves to go for walks but is still learning how to steer.
Rosie is such a friendly and affectionate girl. She really just wants to please and be loved. She dearly loves for a human to lie on her bed with her and pet her. She lets you know you should continue if you stop. She still looks like the lanky teenager that she is – thin with long legs. Her coat is shiny and beautiful. She'll be glad when she finds her lifetime home.
August
25
, 2014 update:
Rosie
came to TAGS for a life of retirement and to find her loving lifetime home.