Date Received: November 12, 2020



Birth date: July 11,

2019

Adopted: December 18,

2020
History: Raven joined the TAGS family at the age of 16 months (a month after littermates, Finn and Pepper, joined the TAGS family). Raven is another petite black female, with white toes, white chest and tiny white tip on her tail. Raven was whelped outside of Texas, but her litter was sent to Texas to be race trained. Raven trained a little longer than Finn and Pepper, but it was apparent that Raven, too, was not going to be competitive. Raven's dam is TF Rosie and her sire is Barcelona Boss (neither of which are Texas dogs). Raven is not individually registered with Greyhound Data and was not named before she came to TAGS. There was a little time between when Raven arrived and her vet appointment so she saw what a house was like (with 4 other Greyhounds). She is a little tentative because she does not know what to expect but enjoys attention and being petted. She rode greyt in the car (not a peep or whine out of her) In her new foster home she will learn to walk on a leash, be crate trained, learn to potty outside, and live in a house with two other Greyhounds. Raven is very young and should adapt to her new surroundings with a little encouragement.
Not indivdually registered on Greyhounddata.com
.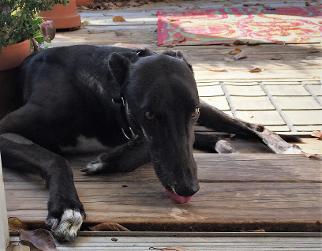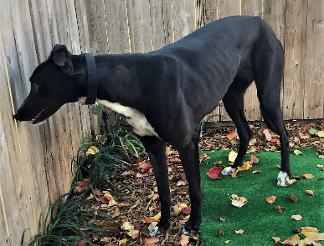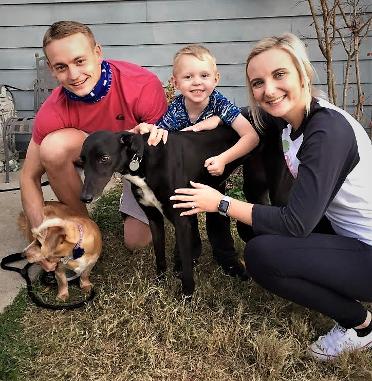 Raven, now Stella, with her new family, Kyle, Claire, Baylor and fur buddy Natty.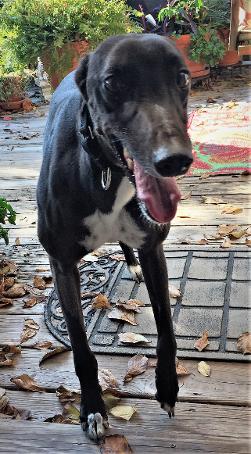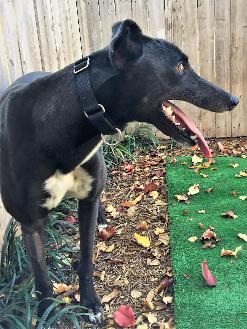 December 18, 2020 update: Raven, now Stella found her forever family. Congrats to all.

November 12, 2020 update: Raven came to TAGS for a life of retirement and to find her loving lifetime home.