Date Received: February 5, 2013




H

istory:

Kells Firebird (to be known as Phoenix) was part of only a three-dog litter. It appears that all of that litter, although from the famous Lonesome Cry/Gable Dodge line, had the same idea – find another way to live besides racing. Phoenix, although trained, had no races. He has, therefore, joined TAGS and will now only race to find his lifetime home. He is a handsome red boy with a white chest and some white on his feet. He has a compact build and can use a few pounds to fill out his trim physique.
See Greyhound-Data.com for more information.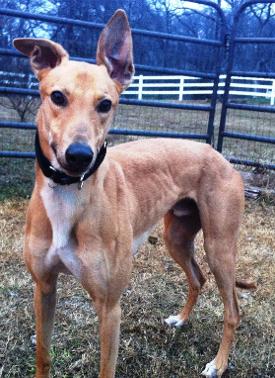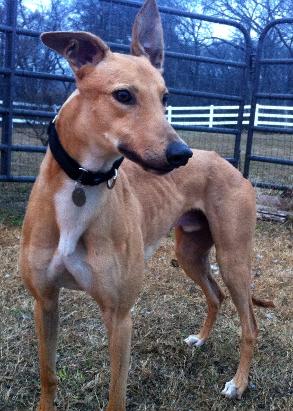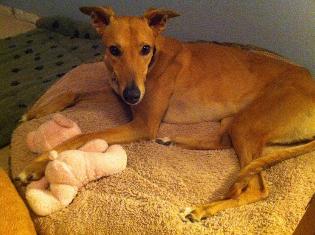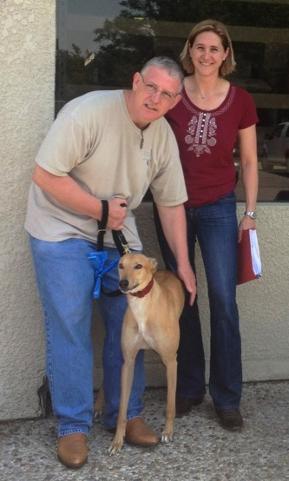 Phoenix with his new dad and mom, Jeff and Christina. Congrats to all!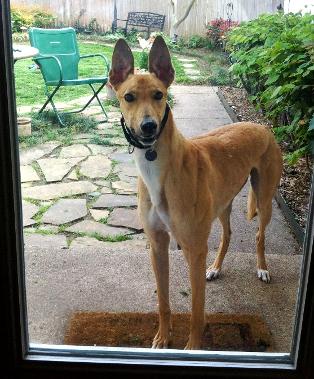 Phoenix says; "Let me in! Into your heart!!"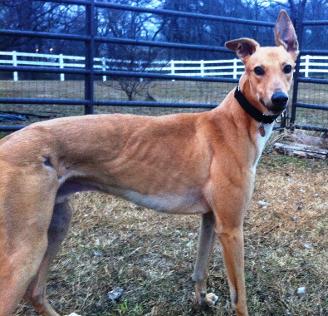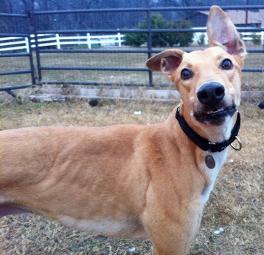 February 27, 2013 update:
I
t didn't take Phoenix long to settle into living in a house. He is a very sweet, loving boy and likes to give kisses when greeting us. It's usually only two or three kisses and he is done. One of his favorite times to give kisses is when my alarm goes off in the morning. He is not a fan of the snooze button and does his best to get me out of bed so I can love on him. He is cautious when first meeting new people or exploring new things. He is still learning what things he is not allowed to do, such as put his paws on the counter. Phoenix responds extremely well to a firm "NO." He has mastered the dog door and has been caught taking stuffy toys with him on his way in or out.
Phoenix is, at times, a vocal boy. If he gets excited he will bark at the source of excitement or when prompted by other dogs, he will bark with them or respond to them. He is coming out of his shell the more comfortable he gets living at the house. I have to keep reminding myself that he is so young because he tends to be as laid back as his older foster sisters.
Phoenix is too interested in the kitties at our house, so I think it will be best for him to be in a home with no cats. He will be tested with small dogs at a later time
.

February 5, 2013 update:
Phoenix's first day in retirement.
Phoenix was a little tentative at first but his wagging tail gave signs of being a happy, friendly boy. This was, after all his first day away from the farm. Once he settled down, he lay on the floor and observed everything going on around him, went outside to potty and run around with the other dogs. He's going to be a very sweet, friendly guy. Phoenix's first week with TAGS will probably be a blur for him – several car rides the first day, a trip to the vet and later in the week, more car rides and neuter, teeth cleaning and shots. We should know more about this boy after he settles in to his new home with a house full of female canines.