Date Received: October 15, 2020



Birth date: July 11,

2019
History: Pepper and littermate, Finn, joined the TAGS family together, at the young age of 15 months. Pepper is petite black female, with white feet, white chest and white tip on her tail. Pepper was whelped outide of Texas, but her litter was sent to Texas to be race trained. It was apparent early that Pepper was not going to be competitive. Pepper's dam is TF Rosie and her sire is Barcelona Boss (neither of which are Texas dogs). Pepper is not individually registered with Greyhound Data and was not named before she came to TAGS. For the short time she has been with TAGS, Pepper seems to be friendly, affectionate, a good traveler, learning to walk on a leash, getting crate trained, learning to potty outside, and living in house with two other female Greyhounds. She met a small dog on a walk and only wanted to play (she is after all still a puppy). We should know more about Pepper as she settles into her foster home.
Not indivdually registered on Greyhounddata.com
.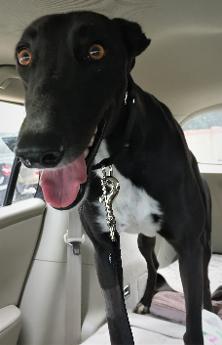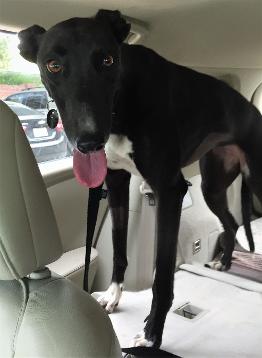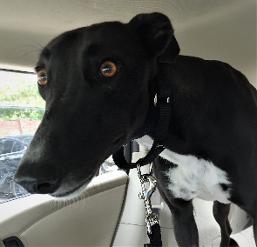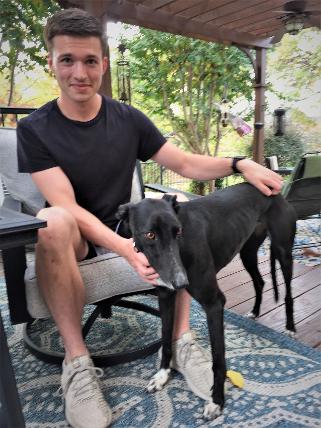 Pepper, now Ivy, with her new Dad, Justin!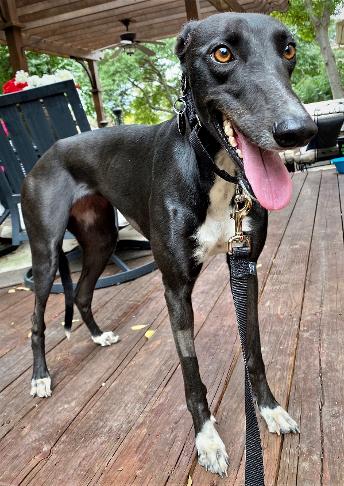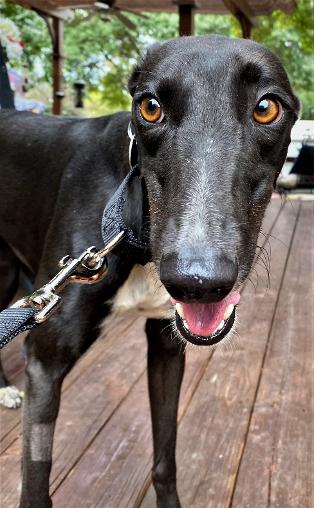 November 14, 2020 update: Pepper, now Ivy, found her forever home with Justin. Congrats to both!

October 15, 2020 update: Pepper came to TAGS for a life of retirement and to find her loving lifetime home.