Nina (CTW Cloud Nine), now Darcy
Date Received: December 3, 2018



Birth date:

June 3, 2017
H

istory: Nina and her 11 siblings were just going through the training phase. Nina and her littermate, Cherry, were deemed not to be racing material. (Dam, Driven Tempo and Sire, Crown and Crest) Nina is a very petite white dog with black patches (a cow dog). She is friendly and is an energetic 18-month old. She has mule ears (ones that stand straight up). She had quite a busy day on her first day off the farm. She rode extremely well in the car without making a peep all the way to Dallas. She was not fond of getting a bath; but like most new greys, soon yielded to the warm water and massaging. She was glad to see some of her own (greyhounds) in her first foster home. She makes good eye contact and likes attention. We think she will enjoy her new adventure.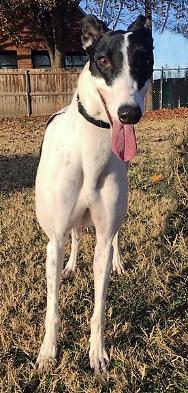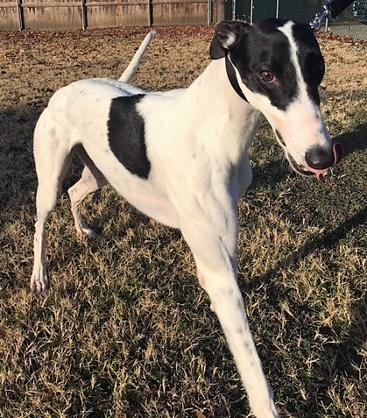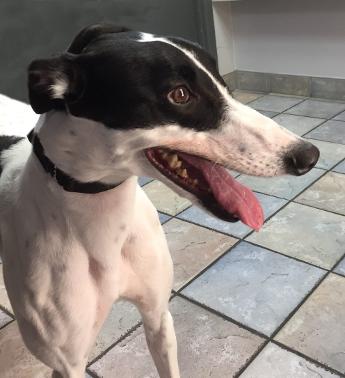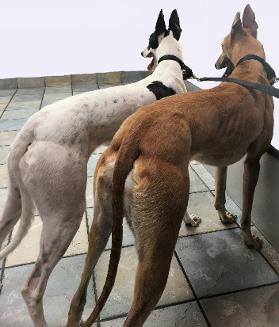 January 17,
2019 update:
Nina, now Darcy, has found her forever home with Greyhound siblings,
Flower, Whiskey and Calvin. Congrats to all.
December 3,
2018 update:
Nina came to TAGS for a life of retirement and to find her loving lifetime home.