Date Received: December 11, 2013



H

istory: Maverick was owned by a breeder in Massachusetts who sent him to Texas for training. During training he broke a rear hock. That injury has now healed and he shows no ill effects from it. He runs and plays like any other Greyhound – only now he will not become a racer.

TAGS has learned a little more about Maverick. Although he is not individually registered with the NGA, four of his siblings are registered and are currently racing at Gulf Greyhound Park. Maverick's sire is Rhythmless and his dam is Look Now (who has had three litters of pups). Look Now's blood line is Craigie Whistler, Molotov, Gable Dodge and other famous Greyhounds. His pedigree also contains Australian and Irish hounds. Because of Maverick's injury, he went straight to retirement.
(Not individually registered with the NGA.)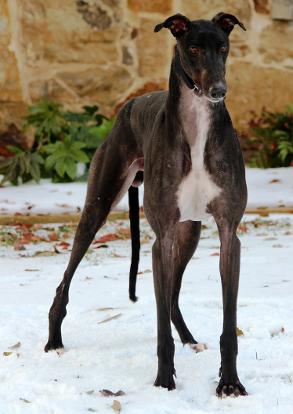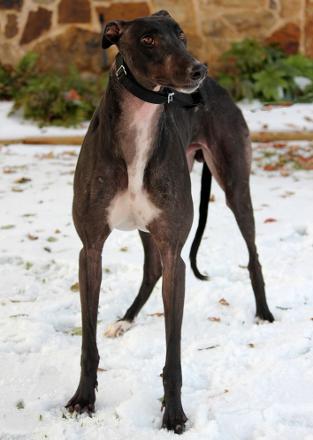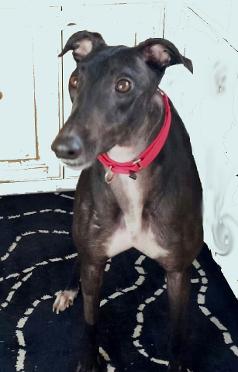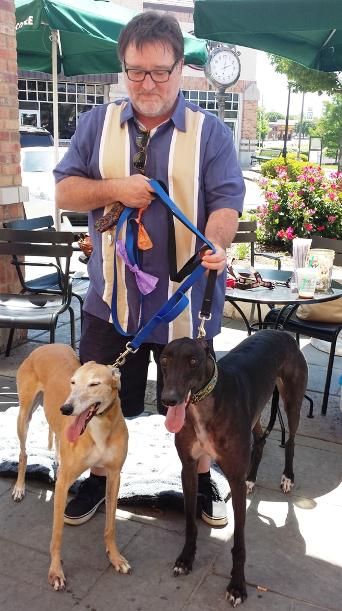 Maverick with his new sister, Goldie and dad, Tom.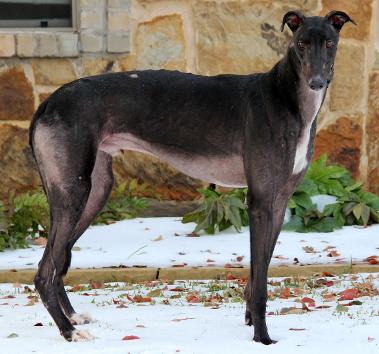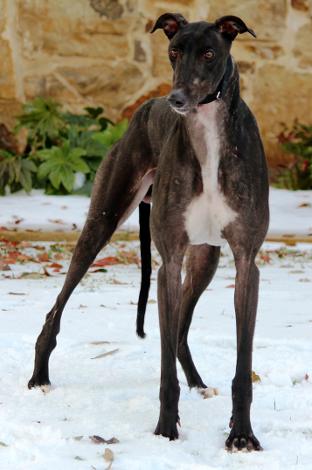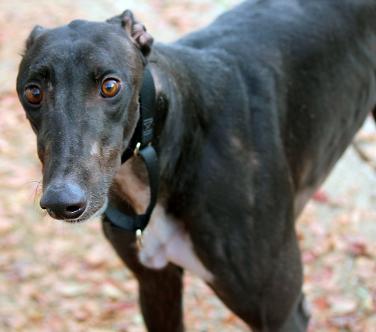 May 17, 2014 update: Maverick found his forever home and has a greyhound sister, Goldie. Congrats to all.

January 14, 2014 update: Maverick is a very sweet, lovable, big boy. When he first arrived he was curious and suspicious about many things that he hadn't seen before such as hardwood floors, tile, dog beds, and many other things a seasoned retiree knows about. The first time he saw the puffy tail of our Great Pyrenees he jumped, as I'm sure no greyhound he has ever seen has a tail like that!
Maverick crated well as of day one. He has been learning from our pack of 4 greyhounds and Pyr. They have taught him how to use the dog door, navigate the house, and pick his favorite bed. He eats dinner in his crate and is a perfect gentleman. He is still learning how to be polite when taking a treat, but every day we are one step closer to where we want him to be.
Maverick briefly met the cats and was a little too interested for our comfort. We'll continue to test him with cats, but we don't believe he will be able to live with cats.
We are happy to say that after having him in our home the last couple weeks he has come out of his shell very well. He has started playing with toys a little, follows us around, and comes up to us for attention. He knows his name and responds when we call him. He will make a greyt pet for the right home. He is a sensitive boy who only needs gentle corrections when learning the house rules.
December 11
, 2013 update:
Maverick came to TAGS to find his loving lifetime home.