Date Received: August 24, 2018



Birth date: September 17

, 2010
History: Lyle is part of a 10-dog "L" litter (all names begin with "L"), and he is littermate to TAGS' alums, Lyncoln Park (Lyncoln) and Lynda Lou (Lou Lou). Lyle's sire is Trent Lee, and his dam is Okie Lynda. All dogs in his litter raced, and only Lou Lou had more races than Lyle. After retiring from a Grade A/AA racing career at Wheeling Downs in the fall of 2014, Lyle was kept at the farm as a stud dog, having 26 offspring. Lyle is now ready for retirement to a forever home.
Lyle is a handsome, good-sized boy with a black shiny coat. His notched ear just adds to his personality.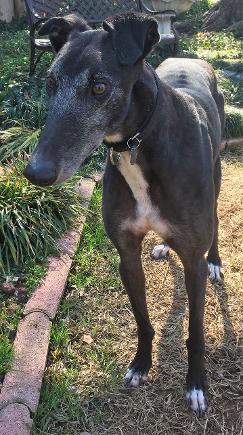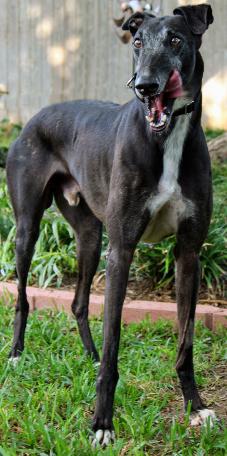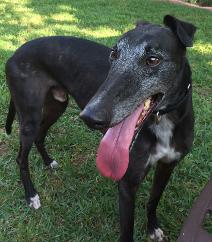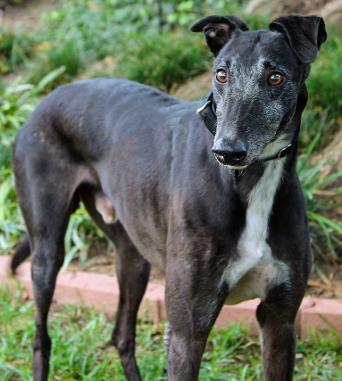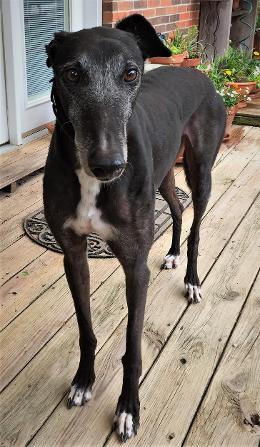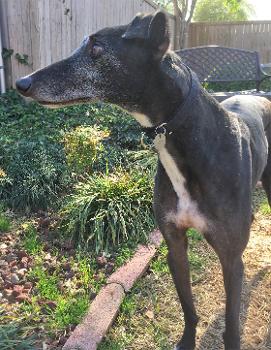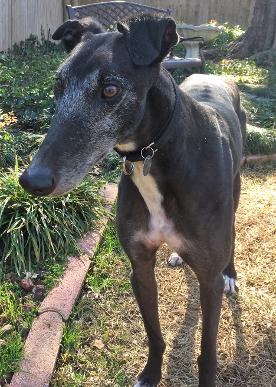 August 25,
2020 update:
Lyle has found his forever home with his foster mom. Of course we all knew that he has been home for quite some time - it just took his foster mom a bit longer to realize that! Congrats to all for making it official.
June 6,
2019 update:
Lyle's cat test and small dog test was recently updated with a two-night stay with cats and small dogs (and another greyhound). He paid no attention to them and they seemed unaffected by his presence (but as usual, will need to be supervised with small animals). Lyle has been in a foster home for a while now with only greyhounds and knows all the rules. He gets along with both male and female. He sometimes reminds them that he was in a spot first, but that's as far as it goes. He is not a counter surfer and does not get on furniture (has not even tried). He eats well and respects the other dogs' food and space if he finishes before they finish. He is very energetic and gets excited (and is verbal about it) when he thinks something new is about to happens. He play bows and bats at you like a puppy when he is excited. He can't wait to try something new. He loves car rides and relaxes until you get to the next adventure. He enjoys wherever he is but it isn't long before he's ready for another nap to recharge his battery. Don't let Lyle's age deter you – he's a puppy at heart.
September 15, 2018 update: Lyle's cat test update: Lyle spent the night with 4 greyhounds and 5 cats. Of course, he loved being around the Greyhounds and they all got along. He sniffed the two most outgoing cats and was swatted by one for his efforts. Although he wasn't too sure what they were, he was not overly interested. The other cats must have thought he was all right because they came out to see him, too. As time went on, he paid no attention to the cats. Lyle was such a well behaved guest and fortunately slept the entire night. He is very playful and had fun running in the yard with the dogs (kicking up mud). He is so sweet and affectionate. He knows his name and responds when called. He will be a wonderful dog for some lucky family.



August 24, 2018 update: Lyle
came to TAGS for a life of retirement and to find his loving lifetime home.