Date Received: December 2, 2020



Birth date: August 25,

2019

Adopted:

February 14,

2021



History: Holly came to Texas with Amber and arrived at TAGS with Amber. Holly's dam is Silver Wings (from the Dodgem by Design/DK's Prime Time line) and her sire is Kiowa Sweet Trey (who has had 16,315 offspring – one of the most prolific sires!!). Although Holly will not race, she has traveled quite a bit in her short life. She is owned by a breeder in West Virginia, was sent to Oklahoma to be trained, and then sent to Texas to be evaluated on a breeder's training track. Like Amber, Holly loves to run and wanted to race but she is just too small and "slow." There are no tracks now for the slower, smaller dogs. Her first day as a TAGS girl was rather uneventful. You would hardly know she was in the car because she was so quiet (she lay on a comfy bed and snoozed the whole way). She was fine with the new greyhounds she met and they went on a quick walk through the neighborhood. She is a little unsure of new situations. We will learn more about her as she settles into her foster home. (And yes, she really is a Greyhound – not a Whippet.)
Not indivdually registered on Greyhounddata.com
.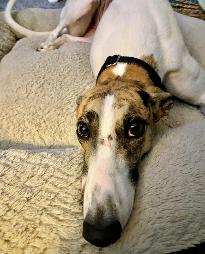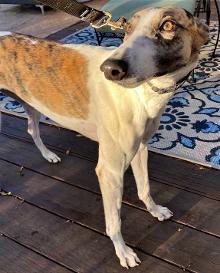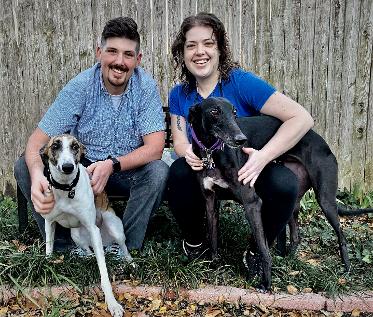 Holly and her forever family, Mitch, Amy and Rocket (formerly Lass).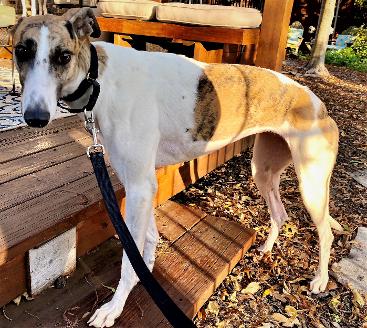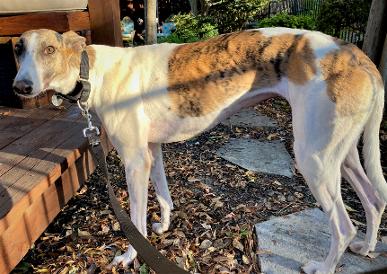 February 14, 2020 update: Holly went to live with her forever family and TAGS Alumni Lass (now Rocket). Congrats to all!

December 2, 2020 update: Holly came to TAGS for a life of retirement and to find her loving lifetime home.