Date Received: November 6, 2013



H

istory:

Ginger's sire, red brindle Bob's Spider and dam, black Bob's Missula, were successful racers; but sweet brindle, Ginger, did not make it to the track. Ginger sustained an unknown injury to her shoulder. Although it slowed her down for racing purposes, it does not affect her playing and roaching ability.

She's still a very young girl (15 months), and has lots of play left in her. TAGS welcomes Ginger to the start of her new life. We hope you enjoy getting to know her

.
Not individually registered on Greyhound-Data.com.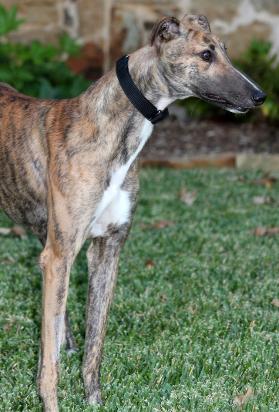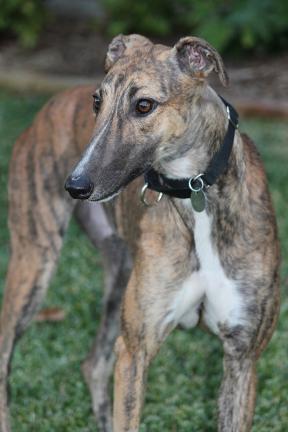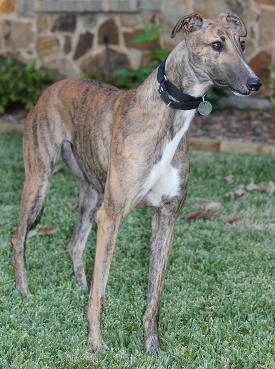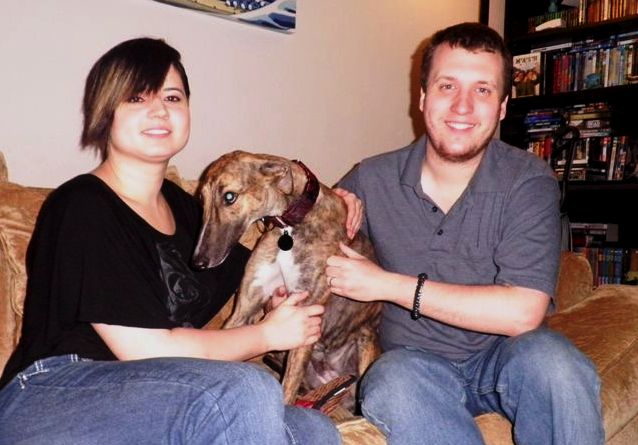 Ginger her new family Kyle and Stephanie.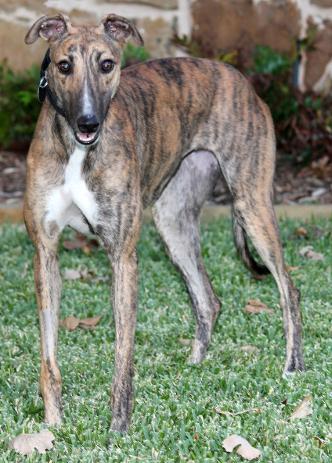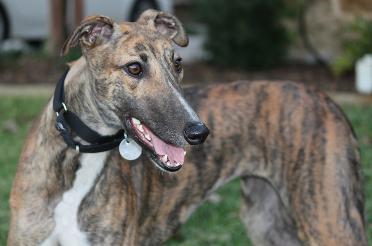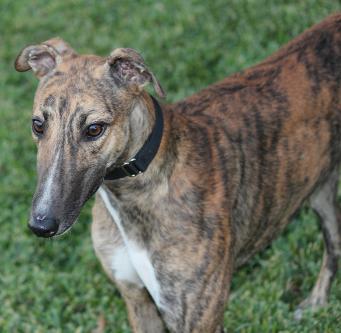 November 22, 2013 update: Ginger found her lifetime home. Congrats to all.


November 6, 2013 update: Ginger came to TAGS to find her loving lifetime home. Ginger is a very sweet and pretty little girl wanting to be with her "person" wherever he goes. She loves to put her head in my lap for petting and as long as I will do so she will stand there. Ginger has begun to relax and settle into our home. She has learned the purpose of dog beds and will check out all in the course of the day as long as Libby, the Chihuahua, is not occupying one. I have crated her a few times, twice were extended, and she does very well. She may whine but just for a few minutes. Ginger walks into the crate without much coaxing and has not torn up the bedding.


Ginger is fine with Libby and wants to play but because Libby is having none of it at this point, Ginger will crouch down and whine – it doesn't help. The two of them are beginning to get along better naturally. Ginger is not a barker just a whiner.

Ginger has not had an accident in the house and can go all day before going for a walk. She walks well on a leash and will compete with Libby to see who can pull me faster. She is learning to walk next to me and not pull and for a young girl she is doing very well. Ginger doesn't jump on people but when she shows her excitement, such as after going to potty, she will leap in the air several times while twisting her body. The injury she sustained doesn't slow this girl down. Personally I believe she is faking it!

Anyone bringing this wonderful little girl into their home will have a greyt girl eager to learn anything you want to teach her and in return will bless you with many, many years of love. Anyone seeing Ginger at
the TAGS
events will fall in love and want to
give her a forever
home. Don't hesitate to add the perfect "spice" to your life