Date Received: March 29, 2012




H

istory:

This boy had a decent racing career (108 races according to Greyhound-Data) and just slowed down. He heard retirement was a good life. He retired from racing but has been living on the farm for some time. He's ready now for real forever home. His owner says Gabe has a fantastic personality. He said Gabe's a "laid back bubba." Come see for yourself.

Gabe is very friendly and people oriented. He is well built with a very thick coat – a little on the fuzzy side. After he loses the fuzz he will be a beautiful, sleek black Greyhound that no one will be able to resist. It's a tossup as to which will win you over first, his personality or his looks.
See Greyhound-Data.com for more information.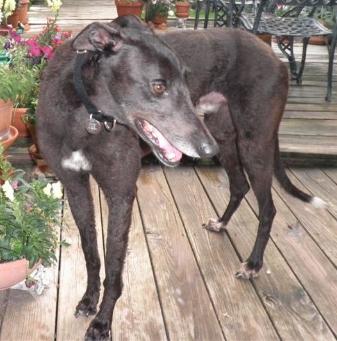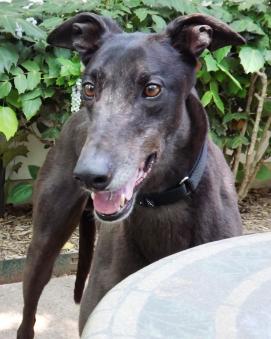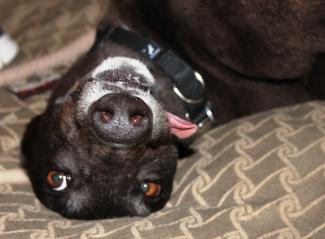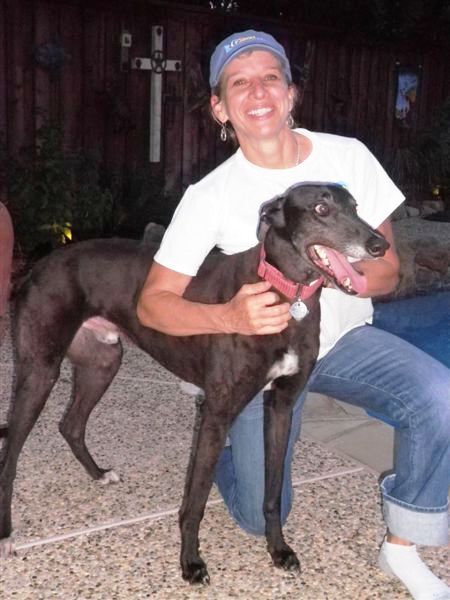 Gabe and his new mom, Karren.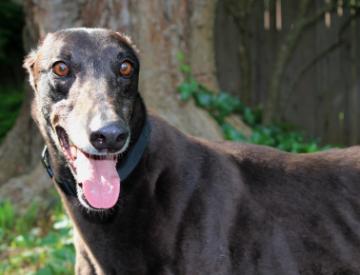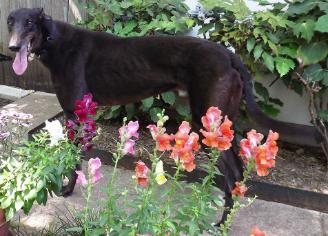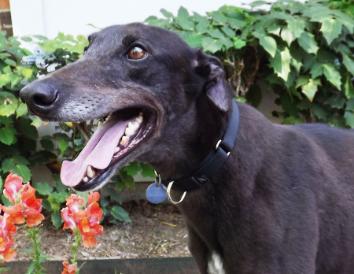 May 13, 2012 update: Gabe adopted to his loving, lifetime home.
April 16, 2012 update: Although Gabe has not been part of TAGS for long, it has not taken him long to learn. Having never been in a home for his first five years, he had many things to learn. He has graduated from the belly band – no accidents in the house. He has slept in the bedroom on a dog bed since the first night – no trying to get on the human bed (or other furniture) and no difficulties playing dog-bed-turnover. He loads into the car with a little encouragement and reclines for the ride – no problems there. He stays away from the counters – no counter surfing so far. He's also a smiler, which he usually does after being reprimanded (he just wants to say "I'm sorry") or when he's very excited (he says "Let's play!").
There are two things that Gabe did not have to learn – relaxation and affection. His favorite impersonation is of a dead cockroach – with at least one front leg straight up in the air and preferably with his tongue hanging out of the side of his mouth. His favorite activity is having someone love all over him. He has those things down pat. Now he just has to find a forever home where he can put all of his skills to work.