Eden (Bob's Eden), now Izzy
Date Received: May 21, 2014



H

istory:

Little Eden had a fairly short racing career (54 starts) at Wheeling Downs. She gave up racing the end of 2011 in favor of a "mommy" career, although there are no offspring registered on Greyhound Data. Since retiring, Eden has been lazing around the farm. She is now ready to become a TAGS girl and find her forever home.
See Greyhound-Data.com for more information.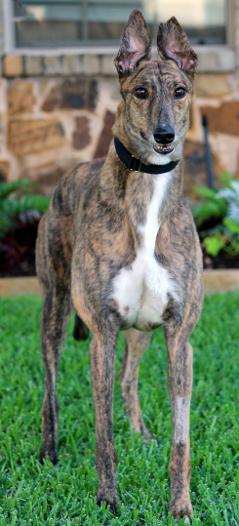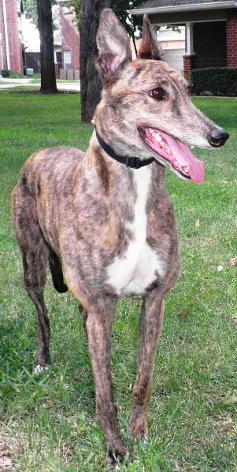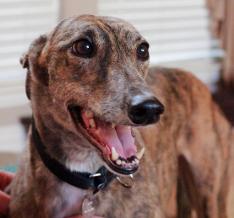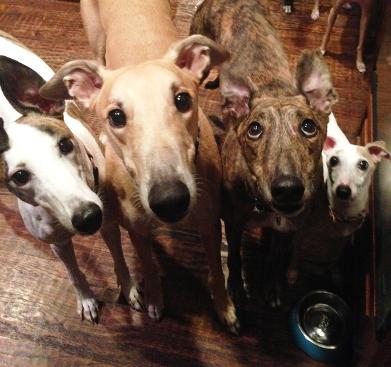 Eden (now Izzy) the brindle here with some friends and her new sister, Stella on the left.
(We'll get a family photo after the family returns from vacation.)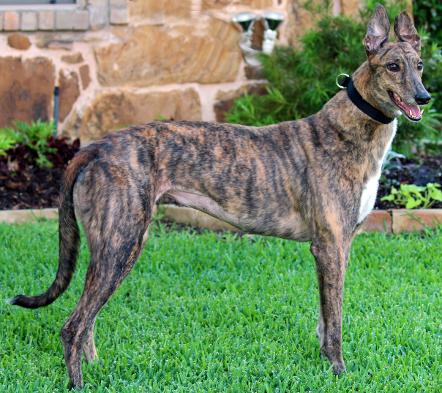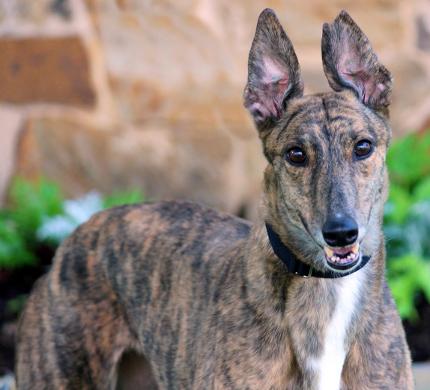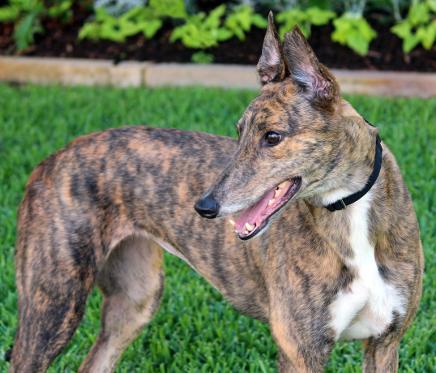 July 23, 2014 update: Eden, now Izzy, is home. He foster family could not let her go. Congrats to all!

June 23, 2014 update: Eden is a complete joy of a dog; she has settled in so well to retirement! We absolutely adore her spunky yet laid back personality. About 90% of the time she hangs out around us, follows us around the house from room to room, or finds a comfy dog bed where she can get a view of everything that is going on. The other 10% of the time she's a playful puppy! She frequently has a toy in her mouth ready to play with either a human or another dog. Frequently, she plays all by herself and throws the toy into the air and catches it. She is always cracking us up with her crazy antics in the backyard.

In the house, Eden is a dream. She is excellent in her potty training having never had an accident in the house. She enjoys eating her food and loves an extra treat. Some basic training would be really fun and easy with this little girl. Before her humans were out for the summer, Eden spent about eight hours in the crate while they were at work. Now, she goes in when they go out for several hours. She also has been left in the master bedroom with a baby gate up with the other dogs if it is just a quick trip.

Eden is still trying to figure out the cats. I'm sure they're a mystery for her. She gets interested especially when they race across the living room. She's easily corrected and is learning to ignore them all together. We will continue this training with her. Eden is completely fine with the other Italian Greyhounds and Greyhounds in the house.

This is one special girl that would love to have a family of her very own!

May 21
, 2014 update:
Eden came to TAGS to find her loving lifetime home.