Date Received: March 16, 2014



H

istory:

Dougie had a short racing career (34 races according to Greyhound Data). He won his first race on November 12, 2012 and came in last in his last race on August 4, 2013. He did race at Gulf Greyhound Park at a high level (Grades A and AA and one stakes race). Since that time he's been chillin' at the farm, waiting for an adoption group to come along and take him into its program. Along came TAGS and snapped up this stunning black fellow. Dougie's friendliness and exuberance give him a winning personality.
See Greyhound-Data.com for more information.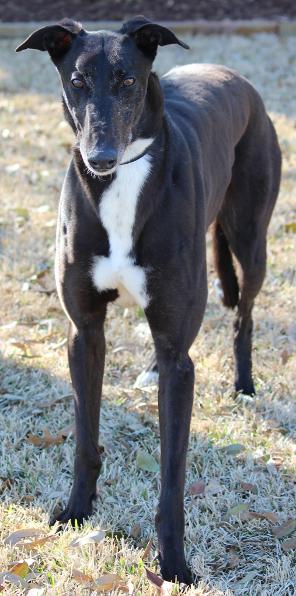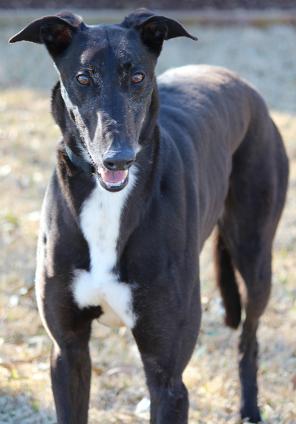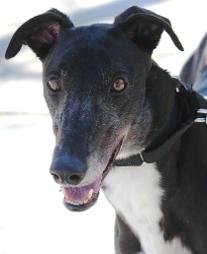 November 21
, 2014 update:
Dougie found his forever home!
He will now live with Jay, Pam, and TAGS Alum, Corina. Congratulations to all!
June 14
, 2014 update:
Doug is a big black male who loves to play with all things squeaky. He is very animated when he's in the backyard playing. From the day Doug got to his foster home, he has enjoyed all the love and attention he can get. He is quite the charmer, walking up and bumping his head into our legs as a reminder that he wants attention. Doug gets along with all the other dogs in our house. He crates well, easily being crated 9 or 10 hours per day. He also sleeps quietly on a dog bed at night in the master bedroom.
Doug enjoys going for walks in the neighborhood, and his leash manners continue to improve. This big boy is enjoying the time in his foster home while he awaits his forever family.
May
20
, 2014 update:
After a short two-month adoption into a home with another Greyhound (adopted from GPA-Houston) both boys were returned. Doug made a road trip from Houston back to TAGS to be fostered with other "skinny dogs" until he finds his lifetime home.
March
22
, 2014 update:
Dougie
went to his loving lifetime home today. Congrats to all.
March
16
, 2014 update:
Dougie
came to TAGS for a life of retirement and to find his loving lifetime home.