Date Received: April 5, 2013




H

istory:

Dawn is a striking petite dark brindle girl (with very expressive ears) that decided after 27 races in Florida that was not the life for her. She retired to the farm in Texas in 2011 and has been waiting for an adoption group to help her find her forever home. She became part of the TAGS family on April 5, 2013. She was very unsure of her surroundings on her first day. She is part of the Craigie Whistler/Molotov and Dodgem by Design/Gable Dodge line. She met a little dog and had no issues with her. She seems to enjoy having other Greyhounds around to show her the ropes. She's a beauty and will steal someone's heart soon.
See Greyhound-Data.com for more information.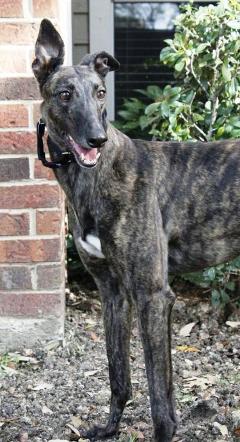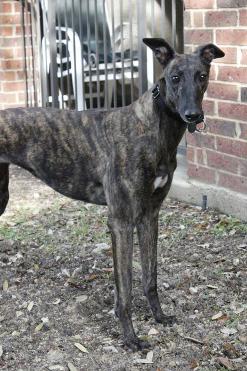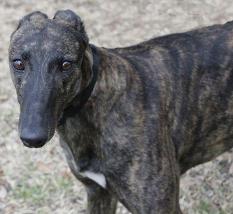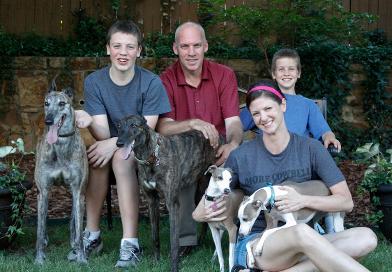 Dawn with her new family.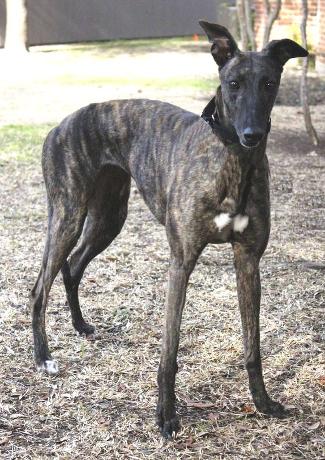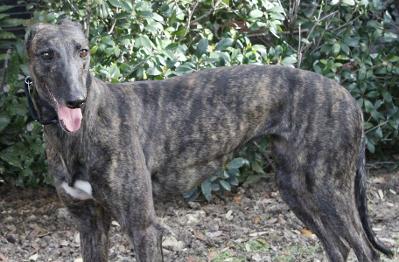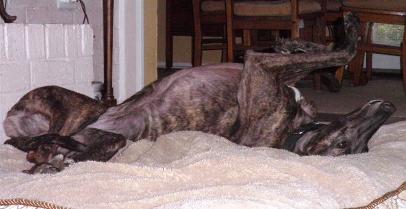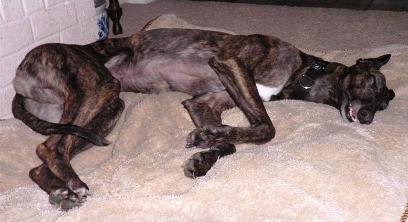 May 22, 2013 update:
Dawn has found her lifetime home with a Greyhound brother, an Italian Greyhound brother and sister and two human brothers along with mom and dad. Congrats to all!


May 9, 2013 update:
Dawn is a very sweet little thing (emphasis on "little"). Her favorite thing in the world (maybe after food) is lying on her back and having her tummy rubbed. She sleeps all night on a dog bed, crates well (with a treat), loads in the car and enjoys the ride. She has picked up a few toys but that is still new to her. She loved playing with the big Greyhound boys in the house. She's now in a foster home with cats and Italian Greyhounds in addition to other female Greyhounds. She has lots of energy and loves to play with the other dogs (and one particular toy). So far, Dawn has done well with the cats and small dogs. Her foster family will keep an eye on her but so far so good. She is getting more comfortable in a home environment and has picked up a few things (just to see what they are). She does like soft things (like throws, towels, washcloths, etc.). She will be a very fun companion for some lucky family.


April 7, 2013 update:
After a few good nights' sleep, Dawn has relaxed and decided this new life is a good deal. She definitely has PERSONALITY. Dawn and the four-year old male go tearing through the house (take it outside!), out the open back door and around the yard. She decided, in some cases, the most efficient way to get from point A to point B is through the middle -- that is over the dog beds and flower pots -- especially when a 75 dog is chasing you. She loves to have her tummy rubbed and will cock roach on her bed for you. If you stop rubbing her tummy she'll paw you to continue. It is amusing to watch her eat. She pokes her food around, then walks around her bowl and comes back and pokes some more (maybe she's looking for something better than kibble) and finally decides to eat. She actually chews her food. She is one cute, spunky girl!!


April 5
, 2013 update:
Dawn started her new life of retirement with TAGS and is seeking to find a loving lifetime home to have new adventures in.