Date Received: October 18, 2017



Birth date:

July 9, 2015
H

istory: Chico apparently was not cut out for racing. He did receive some training, but in one of his training runs he collided with another dog that fell. He ran a few more steps but then stopped and went back to check on the fallen dog. At that point the trainer thought Chico was better suited to be a house pet. Chico is a littermate of Quinee (now Winnie), sharing dam, CTW Quintessence (all pups' names started with "Q") and sire, CTW Base Camp. Chico has beautiful eyes. He has a rough farm coat and thin coat of hair. He was somewhat skittish on his first day in his new world. All of that will change after he settles into his new foster home.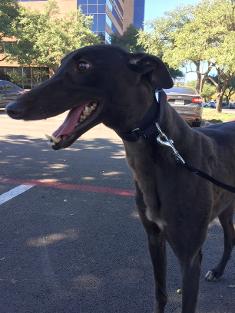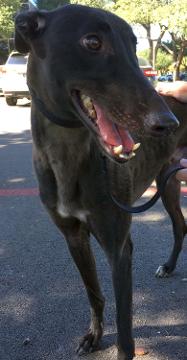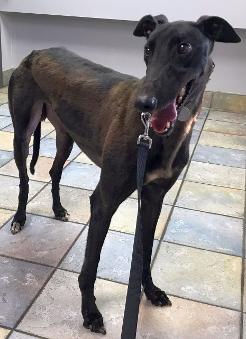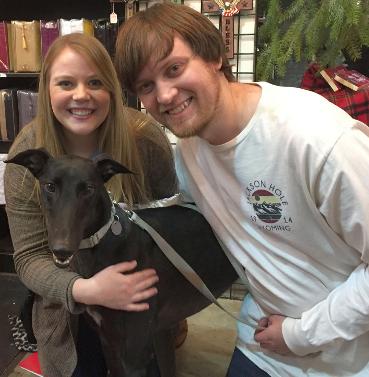 Chico with his new mom and dad, Brittany and Jordan.
Congratulations to all!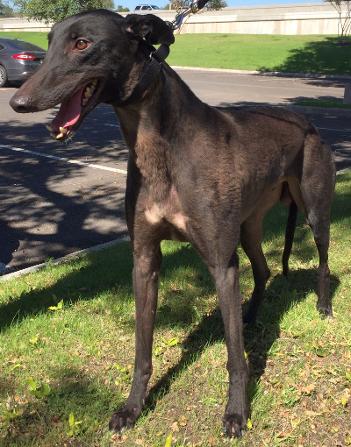 December 16
, 2017 update:
Chico is at home now with Brittany and Jordan. Congratulations everyone!
November 17
, 2017 update:
Chico
is an angel! He is getting along with everyone- especially the other Greyhound. Now there are two Greyhounds, two small dogs, two cats and two children in
Chico
's foster home – sounds like an Ark doesn't it. Sometimes he is interested in the cat but he doesn't seem prey driven - just curious. The cat is dog savvy and they get along. We are working on manners. He likes to try to get the other Greyhound's food. He tries to nudge the other dog away, but we just redirect him - absolutely no food aggression. He comes to his name and listens most of the time. (He is, after all, two years old.) He plays with toys and likes to run in the yard. His house training was a breeze. He tries to make everyone believe he is starving to death all the time. Being food driven might be a help with training. He is not interested in the children (ages 11 & 6) unless they are eating.
Chico
would do well in just about any home but he would enjoy having a buddy.
October 18, 2017 update: Chico came to TAGS for a life of retirement and to find his loving lifetime home.