Date Received: August 27, 2013



H

istory:

Charger is one of eight in first-time mom's litter. His sire is one of the Gable boys. All of his siblings raced or are still racing. Charger's racing history began in January, 2013 at Sanford/Orlando. He then moved to

Ebro

and his 44

th

race was July 27, 2013. That was enough for him. He was never going to be a big-time racer, and it was time he found a new line of work (or rather non-work) – retirement. Charger is just a youngster and is a very small boy at only 66 pounds. He is red brindle from head to toe, with no white except the small white blaze on his chest. His face, with almost a turned up nose, is adorable. He has turn signal ears and he moves that signal at will. He seemed to have no problem posing for the camera. He'll be ready for a forever couch in no time

.
See Greyhound-Data.com for more information.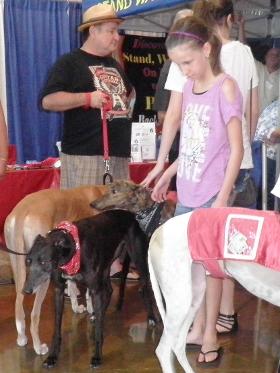 Charger at the Collin County Home and Garden Show in Allen, surrounded by his friends.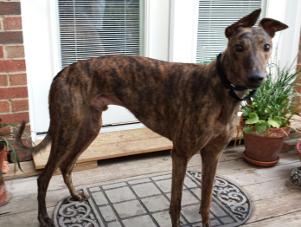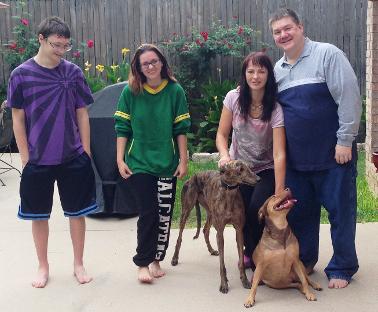 Charger with his new forever family.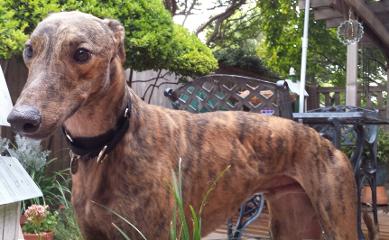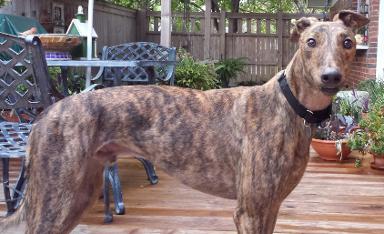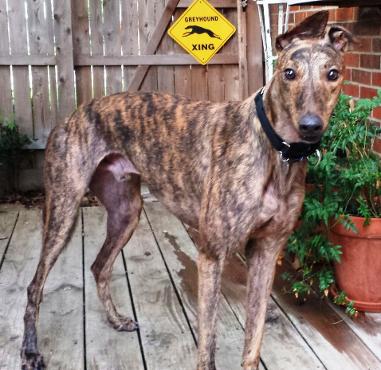 October 12
, 2013 update:
Charger has found his very own family. Congrats to all.
September 15
, 2013 update:
Charger has received his medical procedures (ProtaTek tick-borne disease tests, CBS, fecal, heart worm test, neuter, teeth cleaning and vaccinations) and is ready for adoption. Charger is greytful for the generous donation of Greythounds of Texas (GOT) to help pay for his medical procedures.
Charger appeared at the Fall Collin County Home and Garden Show in Allen, Texas, on September 14 and 15, 2013, and created a lot of interest. He's a very sweet, small boy, waiting for someone to give him the retirement life he deserves . Charger currently resides in a foster home with small dogs, cats and two other Greyhounds. He has many canines and felines teaching him how to be a couch potato in a multi-pet home. Charger easily attaches himself to the humans who care for him.
August 27
, 2013 update:
Charger came to TAGS to find his loving lifetime home and to settle into a life of retirement.