Date Received: September 22, 2016



Rainbow Bridge: March 9, 2020

H

istory:

Boomer does not have any racing history – in fact the trainers knew he would not race and therefore, he was not registered with the NGA. None of the litter has been registered so it is unknown if any of them will race. At 19 months of age, Boomer has spent his entire life at the farm. Everyone there loved him, and he was given the nickname of "Goofy Boy." He's very playful and hopefully will adjust to house living quickly. He's a tall, lean boy that will probably fill out more as he gets older. His dam is CTW Cat Walk (whose sire is CTW Plaza Rio) and his sire is KC and All (who has 1,585 offspring). TAGS has had many other greyt dogs from the Plaza Rio line.
Boomer is not individually registered on Greyhound-data.com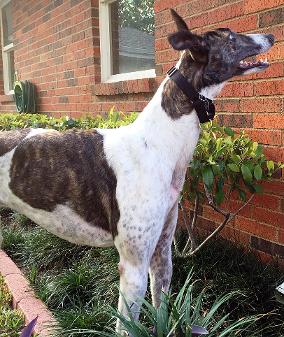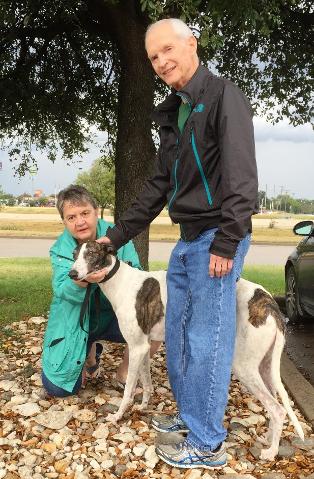 Boomer (now Charlie) with his new mom & dad, Susan and Victor.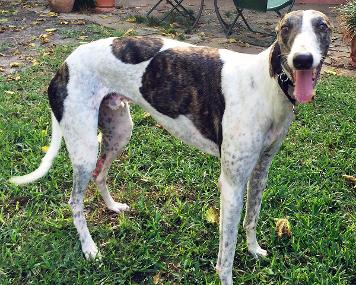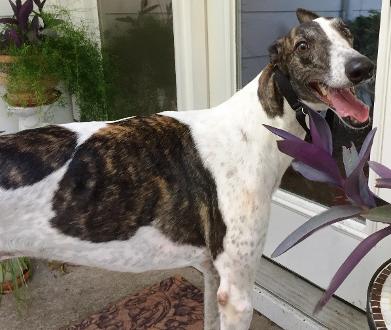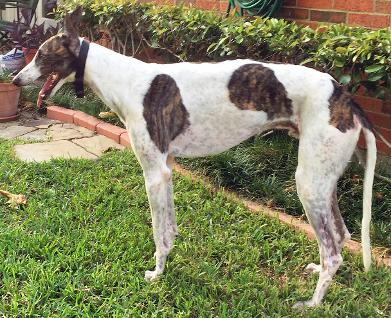 November 6
, 2016 update:
Boomer, now Charlie found his new foever home. Congrats to Charlie and his new mom and dad.
October 18
, 2016 update:
Nineteen months old and living large – that's Boomer. He has now been in a home for approximately a month and has learned a lot – and still has some more to learn. His nose and mouth are the first things into everything. He also tends to want to feel things with his front teeth. Everything goes into his mouth. He is not destructive but is very inquisitive. He's a typical toddler. He's learning to jump into the car (with a little help) but tends to want to stand up while riding and sometimes wants to help drive. We are working on that. He does sleep well at night (and most of the day) and couldn't be happier to have his own bolster bed. He had never heard or seen such a thing a month ago!!! Boomer has also found his appetite. In addition to being eager at feeding time, he wants to help humans in the kitchen. Because he is such a tall boy, cruising the counters is no problem for him. His feet don't have to leave the floor. The water bottle helps. He fit right in with the other Greyhounds in the family. He is crated during the day although that would not be his first choice of a place to be. So far, Boomer hasn't met a stranger. He loves everyone and would be a Walmart Greeter if we'd let him. He is very lovable and will stand/sit/lie still as long as you want to pet him. His nickname
at the farm was "Goofy Boy" and that is an apt description.
September 22
, 2016 update:
Boomer
came to TAGS for a life of retirement and to find his loving lifetime home.