Date Received: December 2, 2020



Birth date: June 27,

2019
History: Amber is a young girl about whose history we know little. Her dam is Mohican Victory (from the Kiowa Sweet Trey/Flying Penske line) and her sire is SH Avatar (who has had 2,285 offspring). Although Amber will not race, she has been quite the traveler in her short life. She was owned by a breeder in West Virginia, was sent to Oklahoma to be trained, and then sent to Texas to be evaluated on a breeder's training track. She loves to run and wanted to race but she is just too small and "slow." There are no tracks now for the slower, smaller dogs. As usual, she had quite the first day and night as a TAGS girl. You would hardly know she was in the car (except that she stood for a while) because she was so quiet. She was fine with the new greyhounds she met. She will probably be quite curious (already picking up a magazine and checking out some cords), but will also probably be a quick study. She already mastered the stairs on her first morning after a good night's sleep.
Not indivdually registered on Greyhounddata.com
.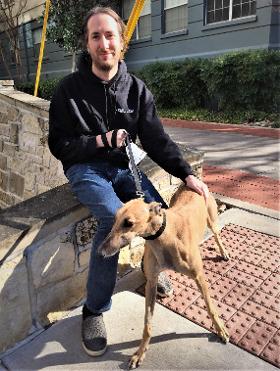 Amber (now Piper) and new dad, Stephen.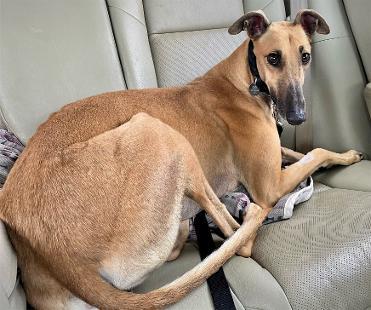 January 16, 2021 update: Amber, now Piper, found her forever home with dad, Stephen.

December 2, 2020 update: Amber came to TAGS for a life of retirement and to find her loving lifetime home.