Texas Adopt a Greyhound Society, Inc. is a 501(c) (3) non-profit corporation dedicated to finding loving, responsible and permanent homes for greyhounds. TAGS is a dedicated group of volunteers striving to provide a personalized adoption experience. This dedication goes beyond the adoption to help adopters understand and care for their new greyhound family member.
Did You Know...
Behaviorist Patricia McConnell observed that when it comes to dogs and people, "play isn't what makes our ..." –
A few months ago, Justina began to limp. Justina has been diagnosed with parosteal osteosarcoma, which is a malignant tumor next to the bone (as opposed to inside the bone).
Justina is scheduled for leg amputation surgery on February 16, 2016. The cost of Justina's surgery and post-operative care is estimated to be between $3,000 and $4,000, without chemotherapy.

TAGS is seeking donations for Justina's surgery and after-care in an effort to give to Justina her best chance to have the happy and successful retirement she deserves.
If you would like to help out please make a tax deductible donation by clicking on the "donate" button or mail a check to TAGS at P. O. Box 703782. Dallas, Texas 75370-3782.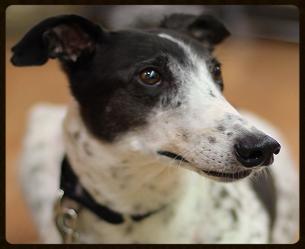 Collin County Home & Garden Show – The Allen Event Center, 200 E. Stacy Rd, Allen, TX

Saturday, February 13, 2016 from noon pm to 5:00 pm
Sunday, February 14, 2016 from 1:00 pm to 5:00 pm
Richardson Mercantile – 101 S. Coit (SE corner of Beltline & Coit), Richardson, TX

Saturday, February 27, 2016 from 1:00 pm to 3:00 pm

Help TAGS - click below to make a tax
deductible
donation.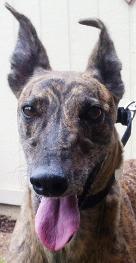 Pam is now ready for a life of retirement in her lifetime home!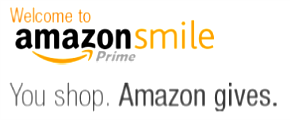 Adopting one Greyhound may not change the world, but the world will surely change for that one Greyhound.

Texas Adopt a Greyhound Society, Inc. is not affiliated with the organization, Grey2K. TAGS is racing neutral.
Texas Adopt a Greyhound Society, Inc. ~ P.O. Box 703782 ~ Dallas, TX 75370
214-368-TAGS(8247) or 855-TAG-TAGS (824-8247)
Greyhound Yin Yang copyright by Sue Horner (Greytwear).